Rep. Michele Bachmann Lies About Her HPV Vaccine Claims During Republican Debate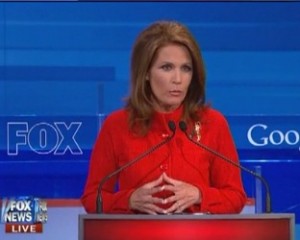 At Thursday night's Republican debate on Fox News, moderator Chris Wallace asked Rep. Michele Bachmann (R-MN) about the uproar surrounding her false claims about the HPV vaccine at, and following, last week's CNN/Tea Party debate. Wallace asked Bachmann if she still believed the vaccine to be dangerous, and whether she felt she should be more careful about what she says. Bachmann replied by claiming that she had never made any claims about the vaccine herself, which is untrue.

Wallace wisely asked his question broadly, recapping Bachmann's comments to Matt Lauer, but also her own claims that the vaccine was "potentially dangerous."
"Do you stand by your statement that the HPV vaccine is potentially dangerous, and if not, should you be more careful when talking about public health issues?" Wallace asked.
"I didn't make that claim, nor did I make that statement," Bachmann began. "Immediately after the debate, a mother came up to me and she was visibly shaken and heartbroken because of what her daughter had gone through, so I only related what her story was."
First of all, she did make that claim, twice, before her interview with Matt Lauer. In fact, Wallace's question was pretty much a direct quote of what she said during last week's debate:
But even if her response was just about the Lauer interview, it's still a lie. She said that Gov. Rick Perry wanted to force girls "to take an injection of what could potentially be a very dangerous drug."
After she related what the mother told her, Bachmann said, "It can have very dangerous side effects."
I've noted, several times, the spectacular failure of the media to challenge Bachmann on the spot when she made these claims. Good for Wallace for asking about it.
As a matter of fact, of the five debates I've watch so far, the questions from the Fox News moderators have consistently been the most clear, substantive, and tough ones of the bunch.
Have a tip we should know? tips@mediaite.com