Rep. Michele Bachmann Returns To Hannity As Official Presidential Candidate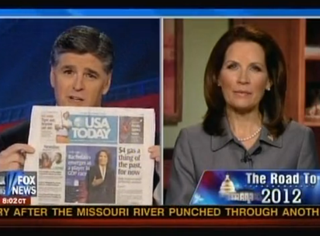 Rep. Michele Bachmann made her debut as an official presidential candidate on Hannity tonight, and came out swinging against President Barack Obama's economic policies– citing his "shocking lack of empathy" for unemployed Americans and asserting firmly that she could not see a situation in which the President would be reelected.
Holding up a copy of today's USA Today, Sean Hannity congratulated her on her run and the relatively warm reception her debate performance received on Monday. The interview then mostly focused on the economy– comments by the President off-handedly joking about the "shovel-ready" economy and a statement about ATMs that has conservatives upset– with Rep. Bachmann appearing astounded by President Obama's inability to fix the economy. "He failed us, Sean," she declared decisively, "and that's why I firmly believe he will be a one-term President." She also mocked the "bump in the road" comment ("that's not a bump in the road, that's the Grand Canyon") and explained that, in her estimation, the problem with the economy was a combination of lack of jobs and inability to sell property in a maimed housing market.
Hannity also attempted "not to psychoanalyze" President Obama, but nonetheless noted comments by the President that sometimes, he too saw himself as a one-term President. Bachmann mostly avoided these comments and returned to the economic statistics and noting that the President's health care program would only exacerbate the terrible economic situation for small businesses.
The segment via Fox News below:

Have a tip we should know? tips@mediaite.com