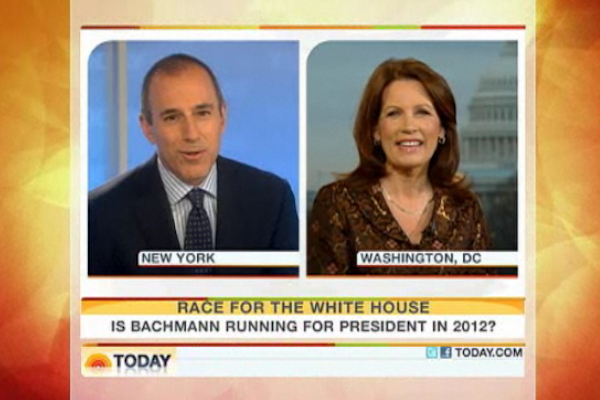 At the end of her appearance on Today this morning, Michele Bachmann was asked point blank by Matt Lauer whether or not she was running for president in 2012. She chuckled and said she probably wouldn't make the decision till this summer. However, the entire rest of the interview played like one with an official candidate as every question Lauer asked, began with the phrase "If you were president…" and Bachmann was eager to answer them all, showing how her approach would differ from the "Obama doctrine."
Lauer started by asking what Bachmann would do if she had been president on March 17th, when Muammar Gaddafi said his troops were coming and that he'd "show no mercy." Bachmann said she would not have entered Libya.
"Well, I don't think that, at that point, we had seen the threat to the United States either from Gaddafi or have we seen a vital American national interest at risk. That really needs to be our first line of defense because, unfortunately, there are atrocities that do happen in different parts of the world. We just saw, this weekend, slaughter in Syria. So, based upon that criteria of humanitarian intervention which apparently is the new Obama doctrine, that would be the basis for the United States to enter into one country after another. I don't think that's in the American interest."
Lauer tried to pressure her to be more specific, asking her if she would tell the other nation's in the UN that America would not be entering Libya and what she would do. Bachmann responded that presidents "stay involved and try to get the very best intelligence." She then pointed out that we don't know enough about the opposition in Libya for it to be safe to take a side.
If anyone had watched the interview and turned it off before the last question, they would be forgiven for assuming Bachmann was already really in the race.
Check out the clip from Today below:
Have a tip we should know? tips@mediaite.com