Rep. Bachmann To Piers Morgan After Heated Gay Rights Chat: 'I've Had Enough'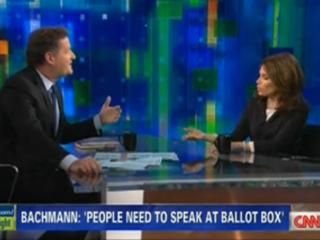 Piers Morgan had former presidential candidate Rep. Michele Bachmann on for the hour tonight, and picked her brain on every topic from Rush Limbaugh to Mitt Romney, but the tensest part of the conversation surrounded none other than Kirk Cameron. Morgan asked Rep. Bachmann several questions about his comments on homosexuality, particularly whether she agreed with Cameron that homosexuality was "unnatural," and after arguing that "traditional values" people were offended publicly more, she simply stopped answering questions.
RELATED: Kirk Cameron Shocks Piers Morgan: Homosexuality Is 'Unnatural' And 'Destructive To… Civilization'
"I'm here as a member of Congress, I'm not here as anybody's judge," she initially answered Morgan, in a clip released earlier where she called Morgan "rude" for saying she was "judgmental." The entire conversation is particularly fascinating, however, because she goes on to answer him anyway, and argue that in states where the issue of same-sex marriage has been on the ballot, it has lost. Morgan replied that he had "total respect" for religious beliefs but objected to the rhetoric against the LGBT community, to which she in turn objected. "The rhetoric is far worse against those who believe in traditional marriage." "You just brought up Kirk Cameron," she noted, "he's the one who is getting trashed right now; he's the one who is getting a bigot."
An interesting bit of the conversation is that, upon being asked if she believed in an equality of respect between religious beliefs and sexuality, she responded that she believed "everyone under the law here in the United States has the right to the same level of protections under the Constitution," which could be interpreted as the first step towards approving of civil unions, or at least some sort of legal status not called "marriage" that provides said levels of protection. Morgan persisted, however, and Rep. Bachmann eventually relented on the entire topic. "I think I've had enough of this conversation," she told him, "we've beaten this horse to death." Morgan seemed surprised she was done with the subject. "It was quite a lively horse though, wasn't it?" he joked. "For you!" she replied, half in jest.
The segment via CNN below:

Have a tip we should know? tips@mediaite.com