Rep. Mike Rogers: Unlike Limbaugh, You Will 'Learn Something' from My Radio Show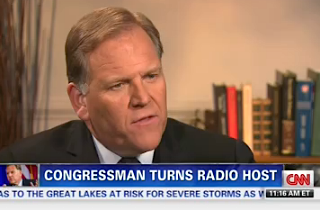 Earlier this year, Rep. Mike Rogers (R-MI) surprised his fellow congress members and the country by announcing he would be stepping down from his post to take a job hosting a radio show for Cumulus Media. On Sunday, Rogers sat down with CNN's Brian Stelter to discuss why he decided to make the move and in the process took some subtle shots at his new competitors in Rush Limbaugh and Sean Hannity.
Asked by Stelter if he views himself as "the next" Limbaugh or Hannity, Rogers said he doesn't think so. "I'm not trying to compete with Rush Limbaugh or Sean Hannity or Michael Savage," he said. "They have their own schtick, and it works extremely well for them, they have loyal listeners."
"I think there are lots of viewers out there looking for something that's a little more engaging, a little more challenging, learn a little something when I turn off the radio, and that this just isn't there today, they're not meeting that demand," he said of those established right-wing voices. While Rogers expected those men to continue to "prosper" on the radio, he said he's hoping to fill a different "niche."
At the same time, Rogers did his best to be gracious to the reigning king of conservative talk radio, saying, "Rush Limbaugh is the king of it. 16 million listeners a week, nobody's going to touch that." He reiterated that he does not intend to "compete" with the Limbaughs of the radio world. "My show is not going to look like the three hours of monologue that Rush Limbaugh can do," he said. "Nobody pulls that off like Rush Limbaugh."
Rogers hinted at a similar point in an interview with The New York Times' Mark Leibovich that ran in the Sunday's magazine. The congressman said he will not try to "outrant" Limbaugh or "outheckle" Hannity. "I think there is room for a more productive, you-might-actually-learn-something kind of talk radio in the marketplace," Rogers said.
Watch video below, via CNN:
[Photo via screengrab]
— —
>> Follow Matt Wilstein (@TheMattWilstein) on Twitter
Have a tip we should know? [email protected]