Rep. Paul Ryan: President Obama Has 'Broken His Promise As A Uniter And Now He's Dividing People"
Rep. Paul Ryan: Obama Has 'Broken His Promise As A Uniter And Now He's Dividing People"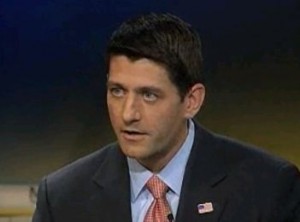 On Meet the Press earlier today, Congressman Paul Ryan defended the legitimate rights of the Occupy Wall Street protestors to air their grievances about the government, but criticized President Obama for dividing the country by class with proposals to increase taxes on millionaires.
David Gregory played a clip of presidential candidate Herman Cain disparaging the protestors, and asked Ryan if this was the official position of the Republican party on the protests, given statements made by fellow Republicans in recent days. Ryan surprisingly bucked the trend and did not immediately take the bait.
"I don't disparage anybody who protests their government, for better government, no matter what perspective they come from. Look, I come from Wisconsin, that's a state where protests are sort of the new normal and I think we're going to see a lot of it from now through the 2012 election."
On the issue of income inequality, Ryan argued that the Republican position is to "lower the barriers" for Americans who want to rise and make "upward mobility" easier for everyone, instead of adding new barriers. He argued that taxing the wealthy doesn't just put a higher burden on millionaires and movie stars, but on people who run small businesses. He was not opposed to looking into subsidies on the wealthy and dealing with corporate welfare, but dismissed the idea of pitting Americans against Americans in a class war of sorts.
"Sewing class envy and social unrest is not what we do in America… I think the president is doing that. I think he's preying on the emotions of fear, envy, and anger, and that is not constructive to unifying America. I think he's broken his promise as a uniter, and now he's dividing people, and to me that's very unproductive."
Ryan claimed that he personally isn't concerned with people who are already rich, but how to make middle-class people richer by removing the economic barriers he referenced earlier.
Watch the video below, courtesy of NBC News:
Have a tip we should know? tips@mediaite.com
Josh Feldman - Senior Editor