Rep Peter King Backtracks: Boehner Is 'Voice Of Reason…Despite Some Of The Things I Said Yesterday'
Peter King Backtracks: Boehner Is 'Voice Of Reason Despite Some Things I Said Yesterday'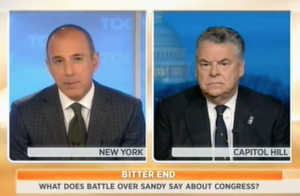 Rep. Peter King (R-NY) was furious yesterday, to say the least, about the House skipping the vote on the Hurricane Sandy aid bill on Tuesday night. Taking to both CNN and Fox News, King tore into his party for turning their backs on the people who need the help. Since then, the House has scheduled the vote, and King appeared to be in much better spirits on Thursday.
RELATED: Rep Peter King Explodes At GOP For Delaying Sandy Aid Vote: 'I Would Not Give One Penny To These People'
King, on Today, expressed confidence that the $60 billion package will make it to those in need following the two votes, one scheduled for this Friday and the other on Jan. 15. Again, he recalled his anger and concern about being told that the vote would happen on Tuesday and then finding out that was not the case.
Asked whether he stands by yesterday's criticism, King said, "I stand by what I said at the time," adding that he felt "shock therapy" was necessary. "Did you mean it though?" Matt Lauer asked.
"At the time, I did," King replied. But having said that, King noted that he did meet with House Speaker John Boehner, who agreed to put everything they wanted on the calendar. Boehner is a "friend," he added.
Lauer pressed King, reminding him that he deemed Boehner's attitude toward the people of New York and New Jersey to be "dismissive" and "cavalier."
"What's done is done," King said. "The fact is, when the money was on the line, the decision had to be made. John Boehner made the right decision. John Boehner agreed to put it all on the calendar." Though he wished it would've been done earlier, the congressman argued, "If we're going to carry grudges the rest of our lives, we'll never get anything done."
"Do you have any doubt that he'll be re-elected speaker?" Lauer asked.
He will be, King said. "John is really a voice of reason in our conference, despite some of the things I said yesterday."
"What a difference 24 hours makes," Lauer remarked.
What a difference, indeed.
Watch below, via NBC:

Have a tip we should know? tips@mediaite.com