Rep Peter King Explodes At GOP For Delaying Sandy Aid Vote: 'I Would Not Give One Penny To These People'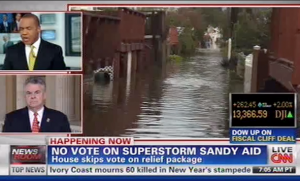 The House adjourned Tuesday night without voting on the $60 billion Hurricane Sandy disaster aid bill — prompting outrage from those in the states affected by the storm. Republican Rep. Peter King (R-NY) was especially furious, taking to CNN to denounce Speaker John Boehner and the GOP.
King was blunt in blaming Boehner, saying he yelled and walked off the House floor without allowing a vote.
Republicans have no problem finding New York when they're trying to raise money, King said. "They're raising millions of dollars in New York City and New Jersey. They sent Gov. Christie around the country raising millions of dollars for them," he said. "I'm saying , anyone from New York or New Jersey who contributes one penny to the Republican congressional campaign committee should have their head examined. I would not give one penny to these people after what they did to us last night."
Calling it "disgraceful," King said he now has to go back and tell people why the U.S. Congress "refused to give them the food and shelter that every other region has gotten."
"People in my party, they wonder why they're becoming a minority party," King continued. They're "writing off" New York and New Jersey, he asserted. "They've written me off, and they're gonna have a hard time getting my vote, I can tell you that."
Asked if this situation is enough to make him switch parties, King said he's independent-minded and he's "going to do what I have to do." Not directly answering the question, he added, "when your people are literally freezing in the winter and they're without food, they're without shelter, and they're without clothing, and my own party refuses to help them, then why should I help the Republican Party?"
Speaking of which, will King vote to keep Boehner as speaker? "As far as I'm concerned, my world turned upside down last night," the congressman said. "So I am, right now, holding every vote in abeyance right now."
Watch below, via CNN:

Have a tip we should know? tips@mediaite.com