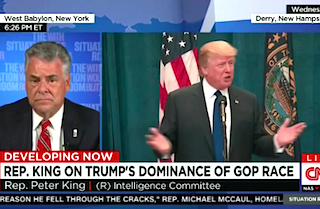 Donald Trump got what sounded like something close to an endorsement from one prominent member of Congress on Monday: fellow New York Republican Peter King. Responding to RNC Chairman Reince Priebus' assertion that Trump's presence in the 2016 presidential race has been a "net positive" for the party, Rep. King said he agreed that Trump is moving Republicans in the right direction.
"I don't agree with everything Donald Trump says, but he's making other Republicans go off their talking points, he's appealing to real people," King told CNN's Wolf Blitzer Monday afternoon. As a New Yorker, he noted that Trump "may be a billionaire from the east side of Manhattan, but he talks like the guys I grew up with in Queens or Brooklyn, he talks like a real person."
"I think he's forcing the other candidates to be more real and to get off their talking points and address issues that the American people are concerned about," King added, before disclosing that Trump contributed to his past campaigns. He also named Jeb Bush, Marco Rubio, John Kasich and Carly Fiorina as other candidates who he thinks would make good nominees for the party.
Invoking King's contentious history with other Republicans currently running for president, Blitzer pointed out that Rand Paul and Ted Cruz were both missing from that list.
"Absolutely not," King confirmed. "Never Rand Paul, never Ted Cruz."
Watch video below, via CNN:
[Photo via screengrab]
— —
>> Follow Matt Wilstein (@TheMattWilstein) on Twitter
Have a tip we should know? tips@mediaite.com