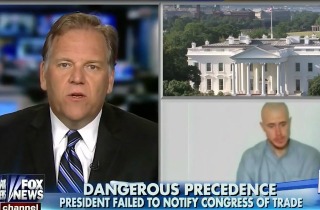 Rep. Mike Rogers (R-MI), the chairman of the House Intelligence Committee, appeared on Fox & Friends on Monday where he asserted that the White House did not follow the law when they negotiated the release of Army Sgt. Bowe Bergdahl from Taliban captivity in exchange for five high-ranking Taliban prisoners. He said he intends to investigate the prisoner swap and criticized President Barack Obama for ending the "chapter in American history where we don't negotiate with terrorists."

"I think the Obama administration negotiated with the Obama administration if they had to follow the law of Congress, and the Obama administration decided that the Obama administration did not have to call Congress," Rogers began.
RELATED: Carney Insists U.S. Did Not Negotiate with Terrorists: Bergdahl 'Was Not a Hostage'
Rogers said it was "illegal" and insisted that this negotiation could not have been more sensitive than the raid on Osama bin Laden on which Congress was regularly briefed.
"They were just talking to themselves about what a great idea this was," Rogers said of the White House. "If they'd have talked to anyone else in a bipartisan way, by the way, people were saying, 'This is really not a good idea to open up an end chapter in American history where we don't negotiate with terrorists.'"
Rogers added that those prisoners released have two more years to execute attacks on American service personnel in Afghanistan.
"Some notion that this band of characters, these terrorists, are not going to get reengaged in this fight in some way is absolutely naïve," Rogers added. "It's dangerous, and every soldier who is on the ground should be a little upset by this. I know I am."
He concluded by saying the prisoner exchange looked like a "political stunt" and pledged to launch an investigation into it as early as today.
Watch the clip below via Fox News:
[Image via screengrab]
— —
>> Follow Noah Rothman (@NoahCRothman) on Twitter
Have a tip we should know? tips@mediaite.com