Rep. Ron Paul: FEMA 'Has One Of The Worst Reputations For A Bureaucracy Ever'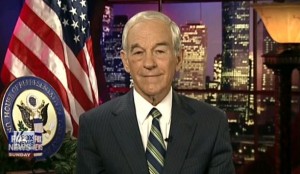 Appearing on Fox News Sunday right after FEMA director Craig Fugate, who has been appearing on many of the Sunday talk shows to update people on relief efforts, Congressman Ron Paul criticized the federal agency for bureaucratic mismanagement and continued to argue his position in favor of abolishing it.
Chris Wallace asked Paul why he would favor getting rid of the government response organization when they are doing their best to take care of people in the middle of Hurricane Irene, but the congressman's immediate reaction was to laugh, citing examples of FEMA mismanagement in the aftermath of Hurricane Katrina six years ago. He referred to the agency's "system of bureaucratic central economic planning" as a "deeply flawed" policy.
Paul said the agency was in deep financial trouble, and touted his opposition to it, given that he has shared this opinion in the past and has been reelected many times in his district.
"FEMA has been around since 1978, it has one of the worst reputations for a bureaucracy ever. I win elections because fight for constituents to overcome the bureaucracy. You can't imagine how many calls we get because FEMA's getting in the way and they can't get their checks… Anyone who wants to argue for this department and this agency, they have a tough argument."
On the subject of emergency funding for FEMA, Congressman Paul ruled out voting in favor for it, wondering where the money would come from. He brought up the Libyan intervention as an example of where the President could make budget cuts and find another billion dollars to fund FEMA.
During the rest of the interview, Paul discussed his political traction in the presidential race, his continuing opposition to U.S. involvement in Libya, and Fed Chairman Ben Bernanke.
Watch the interview below, courtesy of Fox News:
Have a tip we should know? tips@mediaite.com
Josh Feldman - Senior Editor