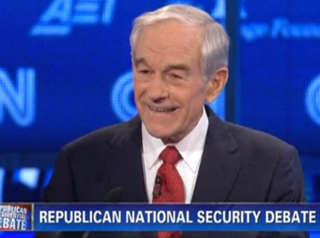 Given that tonight's CNN debate is focused exclusively on foreign policy, Rep. Ron Paul has been getting many of the questions and answering, predictably, in a much different manner than many of his fellow candidates. On the most delicate foreign policy issue in the Republican Party, however, the defense of Israel, Rep. Paul did not back down on his refusal to intertwine himself in their foreign affairs, telling the audience tonight that he would not support materially an attack on Iran by Israel.
RELATED: Bob Schieffer Confronts Rep. Ron Paul: Do You Think Americans Caused 9/11?
The answer was prompted by a question from the audience on whether the candidates would support Israel were they to attack Iran, rather than Iran being the first to engage militarily. Moderator Wolf Blitzer first threw the question to Herman Cain, who answered that he would support Israel once he made sure "they had a credible plan for success." This answer did not satisfy Rep. Paul, who replied with a flat "no" to the question, but then explained.
"I don't expect it to happen," he replied, citing arguments by leaders within Israel that have contemplated and rejected the idea. "It's a big argument in Israel; they're not about to do this." In general, however, Rep. Paul replied that he did not understand "why Israel needs out help– we need to get out of the way!" "They can take care of themselves!" he continued, concluded that Americans should not be comfortable with any military action "without a proper declaration by the United States Congress."
RELATED: Bill O'Reilly: Rep. Ron Paul's Foreign Policy Is 'Dangerous Stuff If You Have Power'
Watch the exchange via CNN below:

Have a tip we should know? tips@mediaite.com