Rep. Ron Paul Tells Univisión He Might Oppose 14th Amendment Birthright Citizenship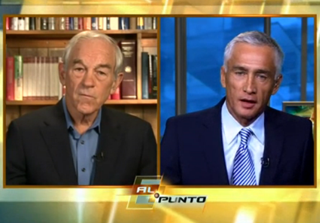 Rep. Ron Paul is a strict constitutionalist, but when it comes to one provision of the 14th Amendment, he doesn't think it is currently being properly interpreted. Discussing immigration during an interview with Jorge Ramos on Univisión's Sunday morning politics show Al Punto, Rep. Ron Paul hesitated on whether he believed birthright citizenship should be a given, noting that he wasn't sure if the 14th Amendment applied to children of illegal immigrants.
The interview served as an introduction to Latino viewers to Rep. Paul and consisted mostly of basic questions on his views, mostly on immigration and foreign policy. The first half of the interview discussed immigration exclusively, and Ramos opened with a general question on Rep. Paul's views. "Somebody who has been here… it's their country, I think there should be a program to bring them into the fold," Rep. Paul noted, supporting a program to help illegal immigrants reach an acceptable migration status. That said, he made the point that he was not in favor of amnesty or helping anyone cut in line. Furthermore, Rep. Paul made the point that he wasn't entirely comfortable with Fourteenth Amendment birthright citizenship. "I think the mere fact of stepping across the border and having a child… no, I don't think that should be automatic," he noted. He did add that, as a doctor, he had seen a great number of cases where mothers crossed the border specifically to assure their child American citizenship.
RELATED: Rep. Ron Paul Lists Ideal Federal Powers At GOP Forum: 'Not A Heck Of A Lot'
Ramos immediately asked whether this meant that Rep. Paul "wanted to change the Constitution," a valid question, but one that for anyone following the Rep. Paul campaign for the past few years will find is a rare doubt about the candidate– in fact, adherence to the Constitution is the one most pervasive talking point of both the 2008 and 2012 Paul campaigns. "Depends on how you interpret the Constitution," Rep. Paul retorted, suggesting that the Fourteenth Amendment applied only to those "under the jurisdiction– if you're illegal, you might not be considered under the jurisdiction of the United States government."
Ramos then wonders whether Rep. Paul is afraid his stance on immigration will alienate Latino voters, arguing that Latinos by and large support amnesty measures (a claim that by and large alienates the public opinion of Caribbean Latinos), to which Rep. Paul responds that he finds it "unnecessary" to modify his messages to reach an ethnic group. He also shoots down the idea of heightening gun control restrictions to stop illegal immigrant related violence, and instead hinted at– without fleshing out– his drug policies.
RELATED: Rick Santorum Tells Rep. Ron Paul To Stop 'Parroting Osama Bin Laden' At CNN Debate
The position may shock a few of Rep. Paul's libertarian supporters who look upon open borders with a bit more warmth, particularly since his positions on drugs and foreign military intervention have gotten so much more exposure. It is also a particularly bizarre choice on Rep. Paul's part to expose his concern about birthright citizenship, which doesn't appear on his official immigration platform, to the one audience that would be most likely to consider him as a candidate based on his positions on immigration.
The segment via Univisión below:

Have a tip we should know? tips@mediaite.com