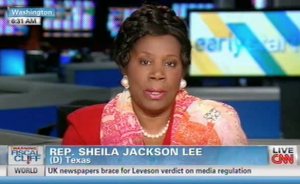 As "War On [Anything/Everything]" continues to be a fill-in-the-blank game of sorts, a new installment is added to the list. Appearing on CNN's Early Start on Friday, Rep. Sheila Jackson Lee (D-Texas) called on the GOP to stop its "war on the working people of America."
In the segment, which was about the fiscal cliff negotiations, Jackson Lee said, "First of all I'd like our Republican friends to stop a war on the working people of America. That is what the ultimate non-action will impact. Those are the people who will be impacted."
President Barack Obama "is not in any way hesitant to negotiate," Jackson Lee added. She went on:
"He asked the question, 'When are the Republicans going to be considerate of those who get up every day and work? Or those who need Medicare or Social Security and Medicaid?' That is what the bottom line is for the president, and for Democrats — to protect benefits in a reasonable manner, and to ensure that we have the revenue to bring down the deficit and continue to operate in the needs of the American people."
Jackson Lee, who is a member of the Congressional Progressive Caucus, also said that entitlement reform can wait until 2013 — and that cuts should be to "waste, fraud, and abuse," not to benefits.
"If my Republican friends would think about the working people of America, stop the war on working people of America, and not adhere to the fact that in a recession you must constantly focus on the deficit," she said. "Most economists say focus on growth. But I am looking forward to reasonable men and women coming together as patriots, and ensuring that we will address this question for the American people."
Watch below, via CNN:

Have a tip we should know? tips@mediaite.com