Rep. Steve King Calls Homosexuality 'Self-Professed Behavior' — Unlike Religion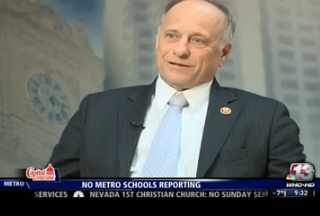 Unlike many other members of his party, Rep. Steve King (R-IA) is still upset that Arizona's Republican governor Jan Brewer vetoed the SB1062 bill that would have allowed businesses to deny services gays and lesbians on the basis of religious belief. On Sunday, he went on a local Des Moines station to explain why he was in favor of the controversial bill.
"You're an individual entrepreneur with God-given rights that our founding father defined in the Declaration," King said, "you should be able to make your own decisions with what you do in that private business." While he admitted that civil rights legislation says you cannot "discriminate" against someone based on "race, creed, religion," etc., he did not think sexual orientation belongs on that list.
"There's nothing mentioned in there on self-professed behavior," King continued, though he neglected to say why religious belief would not fall into that category. "I think it's difficult for us to define a law that would protect behavior." On the question of whether being gay is a "choice," King would only say that "it exists across the continuum in some type of a curve" with some "nature" and some "nurture" mixed in.
"The one thing I referenced when I say 'self-professed' — how do you know who to discriminate against? They about have to tell you," he explained, before suggesting that someone could pretend to be gay in order to claim discrimination. "And are they then setting up a case, is this about bringing a grievance or is it actually about a service that they'd like to have?"
Because the Constitution does not discuss sexual orientation and because homosexuality cannot be "independently verified," King concluded that it should not be protected as a civil rights issue.
Watch video below, via WHO-TV:
[h/t RWW]
[photo via screengrab]
— —
>> Follow Matt Wilstein (@TheMattWilstein) on Twitter
Have a tip we should know? tips@mediaite.com