Rep. Steve King: Obama Possibly a 'Narcissist' Who Wants to Get 'Martyred' by Impeachment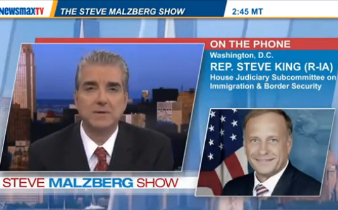 While some of the House's more conservative members might consider impeaching President Barack Obama for an as-yet-unknown executive order on immigration policy, they seem to be wrestling with the idea that such aggressive action against the executive branch could result in a boon for the Democrats.
During a Newsmax TV interview Tuesday evening, host Steve Malzberg asked Rep. Steve King (R-IA) whether it's possible that the president wants to be impeached because he understands the Senate, as it stands, would never vote to remove him.
King's response:
I've just started to digest the thought process of what it would be like to think that, "Well, I'm the President of the United States and go ahead and impeach me and that'll make me a martyr." It's part of the messiah complex that the president has — I can follow that rationale on him. It would be the most extreme narcissist that you could ever find would be somebody that would say "Go ahead and crucify me in the House of Representatives but I've got eternal life in the United States Senate. So it'll make the martyr that I need to be and history will look upon me benevolently and kindly. And we will put tens of millions of illegal aliens into America who are undocumented Democrats, and we will start the process to document them, and thereby convert America into a leftist state, in perpetuity."
Now if this all sounds like speculative, hypothetical analysis of the president, well, Malzberg then asked: "But what you know of the president, that's a possible scenario?"
"Yes, it is," the congressman replied.
Watch below, via Newsmax TV:
— —
>> Follow Andrew Kirell (@AndrewKirell) on Twitter
Have a tip we should know? tips@mediaite.com