Rep. Steve King Refuses To Apologize For Comparing Immigrants To Dogs In Heated Univision Interview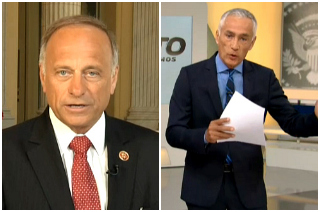 Republican Representative Steve King got into a nasty exchange with ABC Univision host Jorge Ramos over a speech King gave last year in which he suggested America had the "pick of the litter" when it comes to immigrants. King vehemently denied he had made the comparison, and insisted his comments were laudatory of legal immigrants, even as Ramos pressed him to apologize for his "offensive and racist" remarks.
The comments in question were amde during a 2012 speech in Pocahontas, Iowa:
"You want a good bird dog? You want one that's going to be aggressive? Pick the one that's the friskiest…not the one that's over there sleeping in the corner…You get the pick of the litter and you got yourself a pretty good bird dog. Well, we've got the pick of every donor civilization on the planet."
Ramos directly confronted King about the comment, and King to immediately interrupted. "That's a mischaracterization," King said. "Did you watch the video? People write things on the internet all the time. But did you watch the video, the full video? That speech was about celebrating legal immigration. Anyone that understands the language and the culture knows that if they saw the video."
For the next minute, the two talked over each other without pause, with King arguing that his comments were intentionally distorted for political gain.
"The speech…has been mischaracterized by people on the left," he said. "It's been intentionally and dishonestly done so to drive wedges between people on the basis of race, and I think it's a sin to do that, Jorge."
"So from your point of view, you actually did not compare immigrants to dogs?" Ramos asked.
"I said that speech was about the vigor of legal immigration," King said. "It was a very complimentary speech and no, I did not do that."
"I don't think many people found that complementary," Ramos said. "It is not complimentary to compare a group of people to animals."
"You know I didn't do that if you watch the whole video," King said. "And I would challenge you to run the whole video on Univision. Run the whole video. Listen to the whole speech. Get a sense of what I was talking about rather than what the left wing blogs are doing. They are trying to divide us, instead of let us be unified as one people in this country."
Watch the full exchange here, via ABC Univision:
[h/t Think Progress, ABC News]
—
>> Follow Evan McMurry (@evanmcmurry) on Twitter
Have a tip we should know? tips@mediaite.com