Rep. Wasserman Schultz On GOP's 'Path To Poverty' Budget: It's 'Like A Tornado Through Nursing Homes'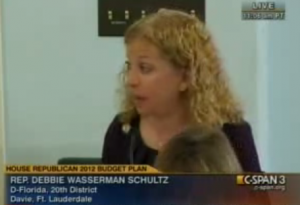 Democratic Congresswoman and soon to be new chair of the Democratic National Committee Debbie Wasserman Schultz is getting fired up about the budget battle and answering the call from some who wondered where is the passion from the Democrats. Wasserman Schultz called the Republican budget full of "reckless and shameful cuts" and didn't stop there.
Wasserman Schultz passionately argued that as a Representative from Florida:
"I can tell you that this budget would be devastating for seniors and older Americans. This Republican path to poverty passes like a tornado through America's nursing homes, where millions of America's seniors receive long-term and end of life care. . . . Under this budget plan, Republicans are trying to back out of our commitment to our seniors. We cannot go back on our promise to the greatest generation. The Republican path to poverty does just that."
Some may be quick to dismiss Wasserman Schultz for engaging in alleged scare tactics to stop any efforts at fiscal restraint. Yet unlike Nancy Pelosi who suggested seniors will starve if Republicans get their way and Chuck Schumer who just keeps referring to the Tea Party as extreme, at least Wasserman Schultz isn't being as hyperbolic and is beginning to address some of the potential real implications of reform. Of course just listening to her comments here skims over the fact that Republicans claim anyone 55 or older would not be impacted by their Medicare proposals. In other words, seniors in nursing homes today should be safe from any potential budget "tornado." Yet the issue of how large America's commitment will be to its future senior citizens is certainly a legitimate debate to be had, and Wasserman Schultz is proving that she will likely be a loud and formidable voice in such a debate.
Watch the clip from C-SPAN below:

Have a tip we should know? [email protected]