Rep. Weiner Admits In Press Conference He Lied All Along But Vows 'I Am Not Resigning'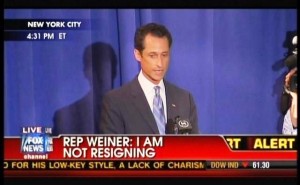 Today another unpredictable chapter was added to the expanding Weinergate story, as just a few hours ago conservative journalist Andrew Breitbart and his website Big Government unveiled brand new, shirtless photos of Democratic Congressman Anthony Weiner that were allegedly sent by Weiner to an unidentified female. Weiner wasted no time responding to these new photos by announcing a press conference, but oddly Breitbart himself appeared in the room and took the podium first.
Breitbart stole the spotlight at first, answering questions from members of the press and said "I'd like an apology from [Weiner]" and "I want to hear the truth." Then Breitbart joked that "I've seen a lot of this Congressman's body" and that "he's in very good shape." And finally, Breitbart suggested he is holding back one explicit photo in order to protect Weiner's family.
Nearly twenty minutes later Weiner finally appeared and addressed all of the questions. Weiner shockingly admitted "I have made terrible mistakes" and that he lied about his Twitter account being hacked. Weiner confirmed that the pictures were in fact of him, and that he has exchanged pictures of himself with six women over the past few years. However, he stressed that he never had physical relationships with these women and that he never even met them. Some of the exchanges continued to take place after his marriage. Weiner emphasized that "I'm so sorry" and "I haven't told the truth and I've done things I deeply regret." Before taking many questions from reporters, Weiner reiterated that he apologized to his wife, that he is "deeply ashamed of my terrible judgment and actions" and finally that "I am not resigning."
Prior to the press conference, questions were swirling whether Weiner could survive this controversy and for how long, or whether Weiner might even announce his resignation. Many believed Weiner hurt himself last week with his decision to conduct a round of interviews that breathed new life into the controversy as he was unable to definitely declare whether or not the man in the Twitter underwear picture was actually him. How today's decision to come clean about everything will impact his public image remains to be seen.
Watch the clip below from Fox News:
Have a tip we should know? [email protected]