Rep. Weiner: 'I Can't Say With Certitude' When Asked If Twitter Picture Was Of Him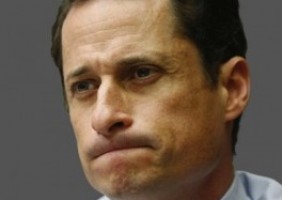 Congressman Anthony Weiner says he definitely did not send the now famous picture through Twitter, however he can't say for sure whether the photo is of him. Weiner maintains that it was a prank which he had nothing to do with. MSNBC's Luke Russert conducted the interview and pressed Weiner on the details of the controversy.
On the most intriguing question, Russert asked Weiner whether the picture was of him and Weiner's head-scratching response:
"You know, I can't say with certitude. My system was hacked. Pictures can be manipulated. Pictures can be dropped in and inserted."
Weiner insisted that the bottom line was "I was the victim of a prank here" and wondered why it feels like Alice in Wonderland in that there has been four days of reporting on what amounts to nothing more than a silly distraction. Russert inquired whether Weiner might be worried if this could jeopardize his future political plans, and Weiner looked completely shocked that Russert would even make the suggestion. Weiner dismissed the possibility that there will be an ethics investigation, reaffirming his argument that he was the victim, but didn't want to waste federal resources and make a federal case out of what was merely a prank.
Weiner was hopeful that sitting down for an interview now to answer these questions could put this whole distraction behind him. However, with the headline from this appearance basically being that a Congressman can't recognize whether a picture is of him or not, it seems likely that the strange story isn't over yet.
Watch the video from MSNBC below:
Have a tip we should know? tips@mediaite.com