Rep. Weiner To Wolf Blitzer: 'I Hope My Marriage Survives Our First Anniversary'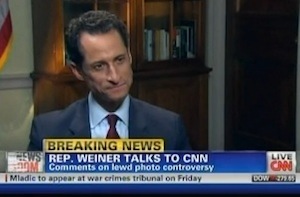 Earlier today Democratic Congressman Anthony Weiner spoke with Luke Russert on MSNBC, and now Weiner continued his round of interviews with CNN's Wolf Blitzer. However, it remains up for debate whether Weiner's interviews are adding fuel to the fire or helping him to extinguish the controversy.
Weiner reiterated his belief that his whole Twitter ordeal was nothing more than a prank and is definitely not a federal case. He attempted to laugh it off, saying "when you're named Weiner, [jokes] happen a lot." Yet Wolf was persistent with his questioning, asking Weiner specifically several times how he could not recognize whether the picture of a man in underwear actually was Weiner, and wondering about Weiner's Twitter communication habits in general. Trying his best to deflect the awkward questioning, Weiner side-stepped confirming whether the photo was actually him, saying "photos can be manipulated" and again attempting to joke that "maybe Jon Stewart had it right unfortunately."
Wolf however wasn't eager to lighten the mood and wondered how Weiner could not know if it was his underpants? Weiner admitted the picture "doesn't look familiar to me" and tried to switch the conversation back to the larger issue, that "these things happen" in today's social media world, arguing "have I called the FBI because someone sent spam – no." When Wolf started asking Weiner about specific people he follows on Twitter, including a stripper, Weiner declared "I'm not going to get into how I communicate with people on Twitter." Instead, Weiner argued this type of investigation had "jumped the shark" when the national media is focusing so much attention on all of his Twitter followers.
Weiner was also disappointed with CNN for putting "this Breitbart guy" on to launch all types of offensive accusations. Yet Wolf was even more upset with Weiner, and scolded him for his testy treatment of CNN reporters yesterday. Weiner admitted that he regretted how he handled himself and explained that as the reason why he was sitting down with Wolf now.
Ultimately Weiner was most concerned with protecting his wife from the ongoing controversy and, in Weiner's only true moment of vulnerability or regret, told Wolf "I hope my marriage survives our first anniversary."
Watch the clip from CNN below:
Have a tip we should know? tips@mediaite.com