No One in Media to Obama: 'A Range of Options Like What?' on Insurance Cancellations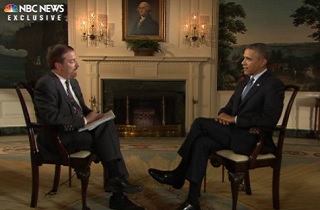 NBC News Political Director Chuck Todd scored a major coup Thursday night, interviewing President Obama at his most embattled, and extracting a newsmaking apology that will be written in the pages of history. That apology is all anyone can talk about Friday morning, but an even bigger, more important piece of news is being almost completely ignored: the President also told Todd that he was considering a "range of options" in order to deal with those angry about health insurance cancellations.
This is not a knock on Chuck Todd, who is an excellent reporter, but a very political-minded one. During the interview, the President made repeated references to potential actions aimed at mitigating the disruption to those people who are receiving cancellation letters, but Todd mainly stuck to drilling down on the politics involved. That paid off in an apology that made news, and will unquestionably affect the politics of health care reform going forward, but it was a missed opportunity to get the President on record regarding the policy.
In response to Todd's opening question about cancellations, the President explained the dynamics of the individual market, and the goals of reform, and added "We also want to make sure that– nobody is put in a position where their plan's been cancelled. They can't afford a better plan, even though they'd like to have a better plan. And so we're going to have to work hard– to make sure that those folks– are, you know, taken care of."
From there, Todd moved on to asking the President if he "owe(d) these folks an apology," and embedded in his response was the promise that "We've got to work hard to make sure that they know we hear them and we are going to do everything we can to deal with folks who find themselves in a tough position as a consequence of this."
Minutes later, the President conceded that "obviously, we didn't do a good enough job in terms of how we crafted the law. And, you know, that's something that I regret. That's something that we're going to do everything we can to get fixed."
Here, Chuck did follow up briefly, interjecting "By the way, that sounds like you're supportive of this legislation, various things that are out there."
"We're– we're looking at– a range of options," the President replied, adding "But the one thing I want to emphasize, though, Chuck, is everybody is acting as if the existing market was working. And the fact of the matter is that a whole lot of people who were in this individual market, who were buying health care on their own, because they're not getting it through their employer, they might be happy with it this year. And then suddenly next year, the cost got jacked up by 15%-20%."
There was no further discussion of what that range of options might be, and the media narrative following the interview has also ignored the President's policy teases. Politically, the apology is obviously of great importance, depending upon how it is received by the public. But the President's new promise, to "work hard" to make sure those who receive cancellation notices are "taken care of," seems pretty important, too.
There's every chance, of course, that had Chuck Todd followed up on that range of options, he'd have come away empty-handed, but the President did volunteer it three separate times. The politics are important to the success of the policy, but maybe the media conversation should be devoted to both. A good policy fix might balance out bad politics, and vice-versa.
Update: According to a White House press pool report, Principal White House Deputy Press Secretary Josh Earnest was asked about this during a gaggle aboard Air Force One Friday morning:
ACA: he said Obama has asked "his team" to look at administrative solutions to people getting plans cancelled, but had no details

He was asked about extending enrollment deadline, but said admin has confidence website will b improved by Nov 30 and people will have 4 months to enroll, "a really long time"

He was asked whether Todd Park will testify before Issa committee, and said for now, he'll be "focused on the task at hand"– the website – but didn't rule out that he'd testify
Here's the full interview, via NBC News, followed by a transcript:
Visit NBCNews.com for breaking news, world news, and news about the economy
Transcript (via NBC News):
Have a tip we should know? [email protected]