Report About Media's 2012 Fatigue Sums Up Everything People Hate About The Media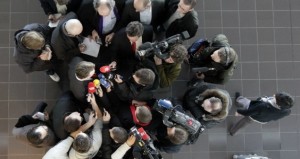 One popular trend in online humor is "First World Problems," and when I read this report from POLITICO yesterday, I couldn't help but think of that joke. Reporters have been very unhappy with the 2012 presidential race thus far, and they're not shy about airing their dissatisfaction. But instead of coming across as measured critiques of how elections are run in the United States, their comments seem more of the "I'm just not into this race" variety. They give off that same vibe the "First World Problems" jokes do, in that they seem to be saying, "I get to cover national politics for a living, and it's too joyless."
And that's not an exaggeration. New York Times Magazine's Mark Leibovich lamented the campaign's "joylessness" and asked "How am I ever going to get through it?" NBC's Chuck Todd actually said, "Until the candidates restore joy, it's impossible for us to be joyful." He also said earlier this month that he and the rest of the media is stuck "cover[ing] the campaign that is in front of you."
But why exactly are they stuck doing that? Media, by its very nature, is supposed to broaden our avenues of communication and supply us with all sorts of information. Narratives are turned on a dime all the time. All it takes is someone in the media to ask a question or address a topic nobody seems to be talking about, and people start to notice it. If what you do in the media is reliant on what politicians do, then it's no wonder you would start to lament how the race is going.
So it amazes me that Walter Shapiro, a writer for Yahoo News and the Columbia Journalism Review, told POLITICO that "it feels impossible for us to change the conversation." The media has just as much power to change the conversation as politicians do, and rather than feeling like captives of the social media-fueled 24-hour news cycle, journalists could stay above it and draw their focus to what people should be most concerned about.
And that's why this general complaint of dissatisfaction with the campaign is so unbelievably mind-boggling. Yes, I'm so sorry an election that is supposed to be a referendum on the nation's economic future isn't fun or interesting enough for you. But there's also something more concerning here: what incentive does the average media consumer have to closely follow an election that has some journalists practically contemplating the futility of their profession?
The only voice of reason in the POLITICO article is the site's own editor-in-chief, John Harris, who made an important point about the power of the press.
"It seems to me that one thing journalists need to remember is that they are people who command great respect within the profession. They have the authority to write what they've written, but they underestimate their ability to help elevate and infuse things with some purpose… People want reporters to cover this like they're doing something important with their lives."
When politicians try to make the race more negative, instead of the media bemoaning how "joyless" the campaign has become, they could try to, I don't know, use the media platforms given to them to push back against whatever trends they are unhappy with. Politicians need the media for exposure. Can you imagine if the networks told both campaigns, "We will refuse to air your sycophantic, platitude-spouting conventions if you don't stop turning this race into a sideshow"? That might change things. But that's just not the way things are done, so why bother trying now, right?
Marc Rosenwasser, the executive producer of PBS' Need to Know, argued in an open letter to the broadcast networks that by 2016, they could fundamentally change the way elections are covered.
[S]ign what amounts to a non-aggression pact and, using only a tiny portion of the millions you would each save, join forces and produce a series of nine, one-hour documentaries airing between Labor Day and Election Day that would explore "The Great Issues" facing the nation. ABC, for instance, could produce and air shows 1, 4 and 7; CBS could do shows 2, 5 and 8, and NBC 3, 6 or 9 — or something like that.
I agree with many of the people quoted in the POLITICO article about how frustrating this election race is, but politicians use the media environment that they are given to their absolute advantage. You want to fix the politics? Fix the media first.
[Image via Reuters]
—–
Follow Josh Feldman on Twitter: @feldmaniac
Have a tip we should know? tips@mediaite.com
Josh Feldman - Senior Editor