Report: Herman Cain's Wife, Gloria, To Sit Down With Greta Van Susteren This Weekend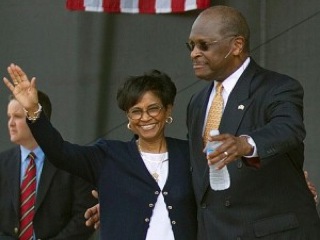 After keeping mum throughout her husband's sexual harassment scandal and, even before then, refusing to be a presence on the campaign trail, Gloria Cain appears ready to speak. The New York Times reported yesterday that the wife of former Republican presidential frontrunner Herman Cain has agreed to sit down for an interview with Fox News' Greta Van Susteren this weekend "for a segment that could air Monday."
RELATED: Fifth Woman Accuses Herman Cain, Alleges She Was Asked To Broker Dinner Date
Herman Cain has often said to the press that his wife prefers not to be on the campaign trail, but upon hearing the sexual harassment accusations, was as outraged as he. A rumor initially surfaced that she was to appear on Fox News when at the end of the first week of the scandal, but it never materialized. Now, the New York Times reports that "a source familiar with the planning" claims Gloria Cain has been booked for On the Record.
At long last, the political spouse who has kept the lowest profile of the campaign season is preparing to make a network debut. Mrs. Cain, who has been married to the former restaurant executive Herman Cain for 43 years, is expected to sit down this weekend with Greta Van Susteren of Fox News, for a segment that could air on Monday, according to a source familiar with the planning.

Mrs. Cain has, to date, not appeared on the campaign trail with her husband, and is said to prefer her home life in Atlanta, far away from the national spotlight. But since allegations of sexual harassment began to engulf the Cain campaign almost two weeks ago, it had been rumored that Mrs. Cain would eventually come to her husband's defense on television.
RELATED: Herman Cain To Neil Cavuto: 'I Do Have To Dial It Back A Little Bit'
While it appears that nothing is quite concrete with Gloria Cain until they have her on film, this is the most concrete story about her potential introduction into the public spotlight since the sexual harassment scandal first began. Herman Cain has been asked repeatedly since then about his wife, who he has said is "200% supportive" and that, upon seeing Sharon Bialek's press conference with Gloria Allred, "she used some language that I've never heard her use before."
Have a tip we should know? tips@mediaite.com