Report: Hugh Grant Turned Down $600K An Episode To Replace Charlie Sheen On Two And A Half Men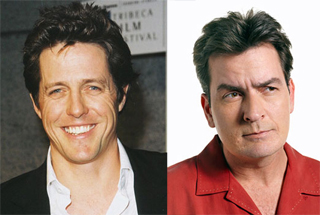 Hackneyed double entendres will always be funny to huge amounts of the population so, despite Two and a Half Men having lost 40% of its titular men, CBS is still bringing the money machine/show back next year. With time running out, it is expected that executive producer Chuck Lorre will soon have Charlie Sheen's replacement set. The Hollywood Reporter is reporting that one actor who won't be filling Sheen's tacky bowling shirts and hilarious sense of sarcastic bemusement is Hugh Grant who reportedly turned down an offer that would have netted him $600 thousand an episode.
This news follows soon-debunked rumors that Rob Lowe would leave the poorly rated but critically acclaimed Parks and Recreation for the highly rated and also highly rated pastures of the Harper brothers' wacky bachelor pad. Grant fits squarely in the Sheen and Lowe mold of "incredibly charming actor who has had his share of tabloid-friendly scandals in the past" however the actor apparently decided he'd rather stick to films. Or perhaps because $600,000, while ridiculously high, is still only a third of what Sheen was getting. Or perhaps because continuing Two and a Half Men at this point is almost certainly an idea destined for colossal failure.
Anyway, network upfronts, an antiquated event where the different broadcast networks showcase their upcoming schedules to advertisers and affiliates, is next week so we should have Lorre's replacement strategy explained to us in just a couple of days. What won't be explained is how the show plans on solving all of the intricate plot threads left dangling since Sheen's departure.
…yeah, just kidding.
(h/t The Daily Beast via Soup)
Have a tip we should know? [email protected]