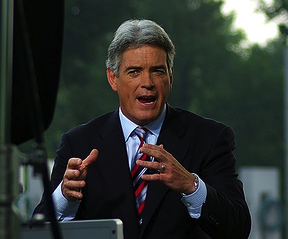 Will the new year bring a slew of shakeups at CNN, now under new Ken Jautz-led management? The New York Post thinks so.
The Murdoch-owned tab says the head-rolling and chair-shifting will being in January, with American Morning co-host John Roberts first on the list to pick up a new gig, at least according to the Post's "insiders:"
John Roberts is finalizing a contract to leave "American Morning" and start a new life as a CNN national correspondent in At lanta, where his pregnant fiancée, Kyra Phillips, anchors "CNN Newsroom." Insiders speculate that handsome newsreader T.J. Holmes, who filled in for Roberts yesterday, is one of the favorites to take over Roberts' role and anchor alongside Kiran Chetry. "T.J. Holmes has always been groomed for a bigger gig," an insider told us.
The Posties also suggest it's the end of the CNN road for CNN daytime anchor Tony Harris, who will reportedly "announce to his staff…that he's leaving the network after six years."
CNN told the Post it would not comment on talent contracts.
Rumors, of course, about shakeups–particularly on the ratings-troubled American Morning–have been bubbling for months. Roberts and co-host Kiran Chetry have failed to find a winning chemistry, and at one point Roberts even seemed to snap at Chetry on air.
More recently, those chatty "insiders" have been speculating that HLN anchor Robin Meade might be a natural for a revamped and reworked American Morning, considering her show has been racking up strong ratings on CNN's sister network.
Have a tip we should know? tips@mediaite.com