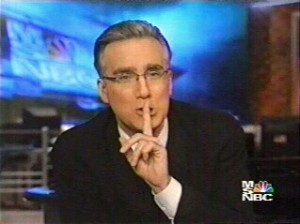 News broke Sunday night that Countdown host Keith Olbermann's "indefinite suspension" would last only four days. MSNBC president Phil Griffin released a statement that said, in part, "We look forward to having him back on the air Tuesday night." Now a report has come out that suggests that Mr. Olbermann "is furious about the way this has all been handled and insisted that MSNBC bosses apologize to him before he would agree to return," though its worth noting that the report cites anonymous sources.
Writing for AOL's Popeater blog, Rob Shuter reports:
"Keith is furious about the way this has all been handled and insisted that MSNBC bosses apologize to him before he would agree to return," a network insider tells me. "Keith sees himself as the star of MSNBC, the person who put them on the map and discovered fellow network anchors Rachel Maddow and Lawrence O'Donnell. To be treated like this by the network he helped shape, he considers disgusting."

…

"In addition to an apology, Keith is demanding that the rules be changed," an executive tells me. "Keith thinks it's unfair that FOX News anchors can make contributions and support candidates and he can't. It's his money that he has earned, he should be allowed to do whatever he wants with it. What sort of country do we live in where an actor can trash a hotel room with an escort and drugs and Keith can't donate money to people running for office he believes in? It makes no sense. If they think they can slap Keith's wrist and have him to return a few days later like nothing happened, they are wrong. They picked the wrong guy."
But wait there's more. The kicker to this story? Shuter reports:
"Keith clearly won this battle. Not only has he got the bosses to say sorry but he's also got the company to review its ethic rules," a friend of Keith's tells me. "You watch — his rating on Tuesday when he returns will be bigger than ever, giving him even more power at MSNBC."
In the days that followed the news of Olbermann's suspension for donating money to three Democratic candidates, there has been a significant outcry from Olbermann's legion of loyal supporters. Via his Twitter feed, Olbermann spoke of his suspension and expressed gratitude for the outpouring of support, writing: "Greetings From Exile! A quick, overwhelmed, stunned THANK YOU for support that feels like a global hug & obviously left me tweetless XO"

Rob Shuter is a former publicist for stars like Jessica Simpson and model Naomi Campbell as well the editor-in-chief for OK! Magazine. And while he's appeared on NBC News' Today a number of times, and clearly has sources within that building, he's not what one would typically consider a cable news insider. Nonetheless, it's clear that this story is far from over, and this report raises the (perhaps unlikely) possibility that Olbermann may not in fact return to MSNBC airwaves on Tuesday. Stay tuned.
Have a tip we should know? tips@mediaite.com
Colby Hall - Founding Editor