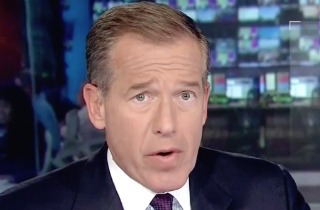 After a weekend of leaks regarding NBC News' internal investigation into Brian Williams' apparent embellishments, it appeared that his chances of returning to the air after a six-month suspension were close to zero. But now, a new report from the New York Daily News' Don Kaplan has presented a new narrative.
According to that reporters' source, NBC News president Andy Lack "believes viewers want him [Williams] back" and that the anchor's "problem seems to be more with the media and other reporters than his viewers." The source added, "If Andy can figure out a way to get him back on the air he will do it."
Shortly after NBC News brought Lack back on board earlier this year, reports started swirling that the move spelled good news for Williams, since the two men have a history together. Lack's return "should be taken as a near-guarantee that NBC would move to reinstate Williams as anchor," Politico's Dylan Byers wrote at the time. "Andy Lack wouldn't come back without Brian," another unnamed source told the New York Post.
But after leaks about additional Williams exaggerations started to emerge over the last few days, any optimism for Williams' future evaporated fast. "The leaks paint a grim picture for Williams," our own Andrew Kirell wrote on Sunday. "By putting this information about internal investigations out there, with three major publications biting, these well-placed sources at NBC could very well be floating a trial balloon, or, more bluntly, getting the public prepared for the idea that Williams' wrongdoings were enough for the network to terminate his employment permanently."
Also in the Daily News report is this quote from a source "close to" Williams: "It's been Brian's position all along that he will not resign. If he leaves it will not be his decision." By leaking that bit of information, Williams' camp seems to be telling NBC that if they thought their leaks would make him quit, they were wrong.
[Photo via screengrab]
— —
>> Follow Matt Wilstein (@TheMattWilstein) on Twitter
Have a tip we should know? tips@mediaite.com