NBC Reportedly Requested High-Capacity Clip For Meet The Press, Was Denied By Police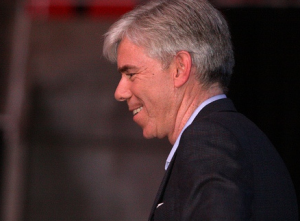 NBC News asked Washington D.C. police for a high-capacity magazine clip to use on Meet the Press, but was denied, according to a report by Washington Post. The information comes amid an investigation into host David Gregory's use of a 30-round magazine on the show.
RELATED: NBC's David Gregory Displays 30-Round Magazine On TV, Matter Is 'Under Investigation' By Police
"It's not clear where the prop used during the show was obtained, or who obtained it," the report noted.
The Post alludes emails from the police department posted online:
After the show, people contacted D.C. police asking whether they would charge Gregory with a crime. A response from the department's customer service section send to a group called Patriot Perspective and confirmed as accurate by a police spokeswoman — said "The Metropolitan Police Department is in receipt of your e-mail regarding David Gregory segment on 'Meet the Press.'

"MPD has received numerous e-mails informing us of the segment," the e-mail continued. "NBC contacted MPD inquiring if they could utilize a high capacity magazine for their segment. NBC was informed that possession of a high capacity magazines is not permissible and their request was denied. This matter is currently being investigated. Thank you for taking the time to bring this matter to our attention."

Authorities declined to say who at NBC asked for the ammunition clip, citing an ongoing investigation. A police spokesman, Officer Araz Alali, said the e-mail would stand as the department's statement on the matter while the investigation was ongoing.
The report also added that "any request to use a magazine would have been turned down as a matter of course, the official saids, because it would have implicated police in an illegal act."
Police are looking into whether he violated D.C. laws by displaying it on television. The District's code says: "District's code says that "No person in the District shall possess, sell, or transfer any large capacity ammunition feeding device" whether or not it is attached to a firearm."
(h/t WaPo)
Have a tip we should know? tips@mediaite.com