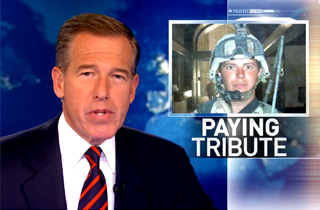 Despite media critics piling onto Brian Williams after his admission that he misremembered a dramatic 2003 Iraq War incident, NBC News will stand by its anchor.
According to the LA Times, "an executive familiar with the matter" says that Williams will not face disciplinary action for embellishing an oft-repeated account — that his helicopter took a hit from an RPG right before the US-led invasion of Baghdad — and that his public apology during his Wednesday night broadcast was "accepted internally." NBC has so far not publicly released a statement.
That said, Williams's appearances outside of NBC Nightly News may be curtailed, with the Times predicting that his "Slow Jam the News" segments with Jimmy Fallon may disappear for a while for fear of being "inappropriate." (No word on what will happen to the Brian Williams raps.)
Williams was widely criticized for embellishing the incident — the helicopter containing him and his crew got shot down and he thought he was going to die, only to be rescued at the last minute by a brave US soldier — and repeating it for twelve years. After his latest recounting of the story on January 30th, in which he brought the soldier who saved him to a New York Rangers game, soldiers who were present at the incident contradicted his claims and said Williams was, in fact, an hour behind the helicopter that was actually hit. Williams soon retracted his story, blaming his account on the "fog of war".
[LA Times]
[Image via screenshot/NBC]
—
>> Follow Tina Nguyen (@Tina_Nguyen) on Twitter
Have a tip we should know? tips@mediaite.com