Report: Neighbors Claim bin Ladens Would Not Return Balls Kicked Over Compound Wall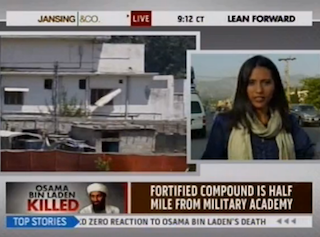 "It's very curious. Very curious as everything here seems to be," reported NBC News' Tazeen Ahmad this morning on MSNBC's Jansing & Co. Ahmad was speaking from Abbottabad, Pakistan, having gone to see the mansion where Osama bin Laden has hidden himself the past few years. There, she found interesting details about the mansion itself as well as about its inhabitants interactions with the town around it.
Ahmad described the mansion as standing out in the area, not just because of its immense size but also because of the huge walls surrounding it. She found an advert on one that seemed to declare the building as being a school for girls (great, more bad press for Greg Mortenson!) and, sure enough, many of the neighbors claimed to have no idea who was hiding inside.
The most interesting detail Ahmad found had to do with the local children.
"A couple of people said that some of the children who were playing locally would throw their football over [the wall] as children do and, usually, they just throw them back or they come out to hand it back or the kids run in to get them. But, here, what would happen is the balls would not be returned. Instead, someone would come out and give the kids some money instead of returning the ball."
Much has been written already about the great potential for a movie that the mission to kill Bin Laden holds (with one potentially on the way already) but I think this gives a much better storyline. Who wouldn't want to see a Sandlot remake starring a bunch of Pakistani kids trying to sneak in and steal a special soccer ball from the leader of al-Qaeda? Box office gold, I tell ya!
Check out the clip from MSNBC below:
Have a tip we should know? tips@mediaite.com