Report: Obama to Reveal 'Keep Your Plan' Fix Today; WH Announcement at 11:35 am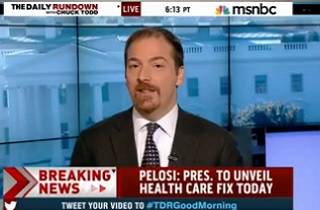 Since his apology to Chuck Todd over the promise that "If you like your plan, you can keep your plan," President Obama and his team have been going over a "range of options" to address those who feel they've been disadvantaged by the rollout of Obamacare, even as legislators in Congress form their own competing fixes. On Thursday morning's The Daily Rundown, Todd reported that House Minority Leader Nancy Pelosi (D-CA) says the President will announce his proposed fix later today.
Todd reported that, while speaking at the Atlantic Ideas Forum at The Newseum, Leader Pelosi "said definitively this about a legislative fix. She said 'I don't know, however the President will offer a proposal today, is my understanding. We have our own proposal that we think is really good.'"
Todd continued, "She said the President is offering his fix for 'if you like your plan you can keep it' today. Obviously he travels today in Ohio. We will be keeping an eye on that."
Shortly after Todd's report, the White House released the following scheduling update:
11:35AM THE PRESIDENT delivers a statement on the Affordable Care Act
Brady Press Briefing Room
The House is preparing to vote on a Republican bill that would allow insurers to sell plans effective Jan. !, 2013 as "grandfathered plans," while several Senate Democrats have supported a measure that would make it mandatory for insurers to continue such plans.
Check back at Mediaite around 11:35 a.m. ET for livestream of the announcement.
Here's the video, via MSNBC:
Have a tip we should know? [email protected]