Report: Officials Thought They Might Kill Anwar Al-Awlaki On Anniversary Of 9/11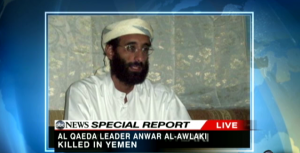 At 5:15 a.m. ET, ABC News reported that the Yemeni government has confirmed that American-born Al Qaeda cleric Anwar al-Awlaki has been killed in Yemen. A missile had hit him approximately five miles from the town of Khashef, about 87 miles east of the capital city of Sana'a. Al-Awlaki had been called "the most significant threat to U.S. homeland security" following the death of Osama bin Laden for his ties to the 9/11 terrorist attack, the Ft. Hood shooting, the failed bombing in Times Square, and more.
Further ABC News reports from White House correspondent Jake Tapper reveal that there had been a "flurry of activity" on the tenth anniversary of 9/11. Writes Tapper:
As President Obama shuttled between Shanksville, Penn., New York, NY, and the Pentagon, officials "thought they had a good opportunity to hit him," the official says. "We waited, but it never materialized."

A senior White House official says Awlaki was "very operational, every day he was plotting, he had very unique skills, and it's good to get him in Yemen where AQAP" – al Qaeda in the Arabian Peninsula – "is planting the flag."
RELATED: US Citizen And Top Terrorist Suspect Anwar Al-Awlaki Killed In Drone Attack
Al-Awlaki had been born in New Mexico, educated in Colorado and overseen mosques in California and Virginia. He had been an instrumental part of the Al Qaeda terrorist network — and a particular threat to the U.S. — for his ability to recruit and indoctrinate recruits using American vernacular.
Watch this morning's breaking news report, courtesy of ABC News:
h/t ABCNews.com
Have a tip we should know? tips@mediaite.com