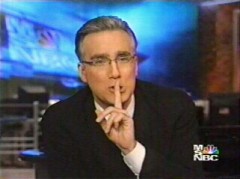 Politico's Mike Allen added another layer of speculation to Keith Olbermann's sudden and indefinite suspension on Friday: Olbermann was suspended for refusing to apologize on air. From Playbook:
Network sources tell Playbook that Keith Olbermann was suspended because he refused to deliver an on-camera mea culpa, which would have allowed him to continue anchoring "Countdown." Olbermann told his bosses he didn't know he was barred from making campaign contributions, although he is resisting saying that publicly. Olbermann may not hold as many cards as he thinks. He makes $7 million a year and MSNBC's prime time is not as dependent on him as it was before the addition of Rachel Maddow and Lawrence O'Donnell, who make considerably less.
MSNBC's ratings certainly back up the last line about Olbermann not holding as many cards as he thinks, something Steve Krakauer pointed out on Friday: "Rachel Maddow is getting better ratings than Olbermann in the key A25-54 demographic, and Lawrence O'Donnell isn't far behind. Olbermann is no longer the center of the strategy either – as the network has unveiled a vibrant, massive new campaign "Lean Forward" which focuses on half a dozen members of the MSNBC talent pool."
As for whether a public apology would solved all of Olbermann's problems at the network? History suggests otherwise. Back in 2008 David Shuster apologized on air for his "pimped out" remarks and still faced a two week suspension. So perhaps the likelier scenario is that Olbermann was offered a reduced suspension for an on air apology and turned it down. That said, Olbermann is no David Shuster and his absence on the network, despite any inner strife at MSNBC is huge.
On a lighter note, and while cable fans wait to see where Keith lands, enjoy some of Olbermann's, er, greatest hits courtesy of 23/6.
Have a tip we should know? tips@mediaite.com