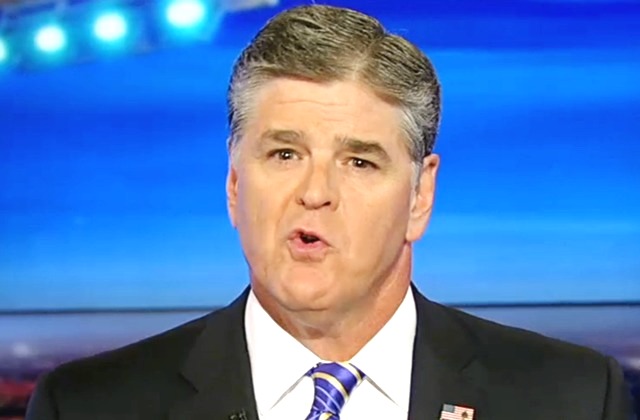 Fox News star Sean Hannity is looking to leave the network and may be out by the end of the week, according to a Daily Beast report.
Hannity was a long-time ally of Fox News co-president Bill Shine, who resigned from the network Monday morning.
Hannity defended Shine on Twitter as the executive came under scrutiny for his role in Fox's sexual harassment controversy since Roger Ailes' departure from the network last summer. In a series of tweets last week, Hannity said that Shine's departure would be "the total end of the FNC as we know it," and used the hashtag "#IStandWithShine."
Sunday night, Hannity warned in a cryptic Tweetstorm that he was amassing an "army of attorneys" to focus on "libel, slander, defamation, tortious interference."
Per The Daily Beast:
Initially, insiders said, Hannity's army of lawyers had hoped to discuss with Fox ways of protecting his 8-year-old primetime show, amid fears that Lachlan and James Murdoch—fresh off the ousting of Bill O'Reilly—were looking to push the network away from hard-right politics. However, with Shine's departure on Monday, one source told The Daily Beast, there's no reason for Hannity to stay.
According to the report, Hannity's departure could come sooner than expected:
One insider speculates that the negotiations could end this week and Hannity might be out by Friday. Another said his final show could even be tonight or Tuesday evening, given Shine's Monday resignation.
In response, Fox News provided a statement saying the information is "completely untrue," per The Daily Beast.
The news comes on the heels of a Mediaite report that Hannity has what is called a "key man clause" in his contract, which means that it can be torn up if a particular person, the "key man," leaves the company. In this case, that's Ailes.
With Shine now out, and a report that a rival network is in the works to take Fox on from the right, the stars may be aligned for Hannity to jump ship after more than two decades at the network.
UPDATE –– 6:31 pm ET: Hannity responded by tweeting out a link to an Independent Journal Review report saying he is "not negotiating" to leave:
If I have anything to say about @FoxNews I will say it tonight at 10 est. All I'll say now is this is true. https://t.co/VNN4MJ1udd

— Sean Hannity (@seanhannity) May 1, 2017
[image via screengrab]
Have a tip we should know? [email protected]
Aidan McLaughlin - Editor in Chief