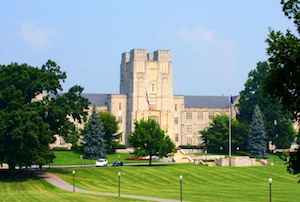 Virginia Tech reports shots were fired on campus and the university is on lock down. The University's Twitter feed claims shots were fired in the Coliseum Parking Lot.
RELATED: Watch Livestream News Coverage Of The Virginia Tech Shooting
According to the Virginia Tech website, the shooting suspect is being described as "white male, with gray sweat pants, gray hat, with neon green brim, maroon hoodie and backpack and he was walking toward the McComas building."
Update: NEWS7 reporter Karen Kiley is reporting that a police officer is the one who has been shot. Another person has been reported shot as well.
Update 2: VT: "Stay inside. Secure doors. Emergency people are responding,"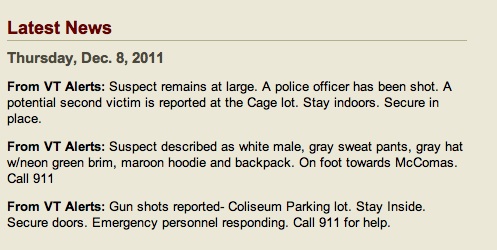 Update 3: Suspect remains at large. Blacksburg Transit has been suspended.
Update 4: Campus is on lockdown.
Update 5: Suspect has been apprehended, Fox News reports. The Collegiate Times is now reporting person who surrendered at Performance Arts Building is not under arrest.
Update 6: Reuters is reporting 2 people have died from the shooting.
Update 7: Campus is still on lockdown. Shooter's status is unknown.
Virginia Tech's website has new updates on the situation:
Shortly after noon today, a Virginia Tech police officer stopped a vehicle on campus during a routine traffic stop in the Coliseum parking lot near McComas Hall

During the traffic stop. the officer was shot and killed. There were witnesses to this shooting.

Witnesses reported to police the shooter fled on foot heading toward the Cage, a parking lot near Duck Pond Drive. At that parking lot, a second person was found. That person is also deceased.

Several law enforcement agencies have responded to assist. Virginia State Police has been requested to take lead in the investigation
Update 8: NBC News reports that officials now believe the second victim to have been the shooter.
Update 9: Virginia Tech officials announce threat no longer exists on campus.
Watch the latest report from Fox News below:
Have a tip we should know? tips@mediaite.com