Report Suggests MTV's 16 and Pregnant Is Keeping Teens From Getting Pregnant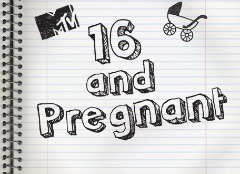 An interesting theory this week from The Christian Science Monitor: The paper cites a recent report from the National Campaign to Prevent Teen and Unplanned Pregnancy that showed young people view parental influence as the number one factor in preventing teen pregnancy. Also a factor: MTV's 16 and Pregnant, which chronicles the tribulations of young men and women who find themselves expecting a little bundle of… complicated feelings. One of which might, sure, be joy.
Of the teens surveyed, 82 percent said the MTV series helped them witness the challenges in having a baby at such a young age and, in doing so, helped them view pregnancy as something best avoided.
Indeed, a study released yesterday by the Centers for Disease Prevention and Control showed a 6 percent decline in teen pregnancy across all races and ethnic groups, with pregnancy in Hispanic teens down 10 percent to a record low. So: Is this because parents are sitting down and talking to their children about the consequences of, say, playing (the generously named, where teens are concerned) Seven Minutes in Heaven after sniffing copious amounts of jenkem (or whatever it is teens do for fun)? Is it because watching young girls fight with disinterested baby daddies and disappointed parents, eyeliner smudged on Hot Topic wristbands after too many nights spent crying, has scared teens straight when it comes to unprotected sex? Are teens finding contraceptives or morning after pills more accessible than in previous years? Or is this merely a symptom of pregnancies going down in general, most likely thanks to a lagging economy?
The takeaway for some is that, hey, TV isn't all bad — it's not just about glamorizing reckless lifestyle choices and rewarding these with instant fame and attention. And perhaps that's true: A quick stroll down any drugstore checkout line will show you that weekly magazines are fulfilling that particular role just fine.
Unfamiliar with 16 and Pregnant? Watch an episode from MTV.com below:

Have a tip we should know? tips@mediaite.com