Report: The Crew Of Hawaii Five-0 Disrespected Pearl Harbor Vets During Hawaiian Cemetery Ceremony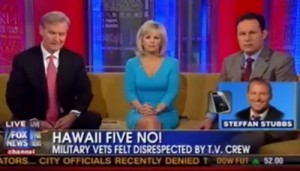 Steffan Tubbs, a reporter for Newsradio KOA in Denver, and a board member of the Greatest Generations Foundation, broke news this week of an incident at the National Memorial Cemetery of the Pacific in Hawaii, where, he claims, a group of 24 veterans had their ceremony repeatedly interrupted and disrespected by producers and crew from the CBS drama Hawaii Five-0.
Tubbs was accompanying the 24 veterans (23 were survivors of Pear Harbor), serving as emcee of the ceremony, and recounted to Fox and Friends some of the abhorrent actions that he saw:
"At one point we were hushed and rushed through a rose-laying ceremony on some of the graves. There was a production member with a backpack and an earpiece who basically walked through all of us as we were doing this somber — very somber — ceremony and was trying to hurry us up. At one point he said, 'Please be quiet, we're rolling.' And it was the ultimate disrespect."
In the blog post that started the controversy, Tubbs said that he and the veterans — who had an average age of 91 — were told by staff that, "We rented this part of the cemetery," and later to, "get out of the line of sight. If you don't belong here, clear out." Production assistants kept pushing Tubbs and the veterans farther away from the shooting, eventually asking them to quiet down at a rose-laying ceremony. He told KHON in Hawaii that the worst part of the experience for the veterans was watching members of the Hawaii Five-0 crew stomping across headstones without regard. The sentiment was echoed by Timothy Davis, President of the Greatest Generations Foundation.
"With so many veterans around, you do not, in my opinion, walk on top of the graves of people who gave their lives for this country all in the name of a Hollywood production," Davis told KHON. "At this point somebody just needs to step up and say we're sorry."
In his original blog post, Tubbs notes that some of the crew members were incredibly nice and getting yelled at by superiors for letting the onlookers linger (one even offered Tubbs and a veteran a cold soda). He also said that he's been around sets before and knows that things are hectic and expensive. "Production on such a grand scale isn't free," Tubbs writes. "To that I say: neither is freedom."
Tubbs confirmed to Fox and Friends that crew members were, "walking on graves, [with] the cameras, the booms, [and] the mics. But when they started hushing the veterans and rushing them along, that's when I took issue."
Later in the show, Brian Kilmeade read a response from CBS, which said that they were investigating the matter. "Our veterans deserve the highest level of respect and reverence for their service," it said, "particularly during a ceremony honoring those who paid the ultimate sacrifice." Tubbs also posted a response from Peter Lenkov, the Executive Producer of the show, in which he disputed Tubbs' recounting of the events, contending that 30 members of the crew told him they paid proper respect during the National Anthem and then called for lunch out of respect to the veterans. He accused Tubbs of lying to trash a television show. Tubbs, in his reply, reminded Lenkov that he's a newsman, not a gossip columnist, and there were some incredibly disrespectful actions being taken by his crew.
You can read Tubbs' original account of the incident, including a special salute the veterans gave the crew of the show as they drove off, here. And watch the Fox and Friends report below, courtesy of Fox News:
Have a tip we should know? tips@mediaite.com