REPORT: Trump National Security Pick Monica Crowley Caught Plagiarizing Again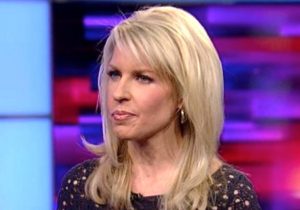 Just a couple of days ago, it was reported that former Fox News contributor Monica Crowley, who had recently been tapped by President-elect Donald Trump for a top national security post, was found to have plagiarized at least 50 sections in her 2012 book 'What the (Bleep) Just Happened'. At that time, it was noted that she had also been accused of plagiarism in the late 1990s regarding a Wall Street Journal piece she wrote.
Well, it appears the plagiarism charges don't stop there.
Tonight, Politico Magazine is reporting that Crowley plagiarized portions of her Ph.D. dissertation. Per the article, roughly a dozen sections of the dissertation had been lifted from other papers and works without the proper attribution. Politico states that in some cases, she used footnotes but didn't quote the text correctly. In other instances, she just copied without attribution.
This is similar to what was found by CNN's KFILE last week, where they showed Crowley just copying or barely changing whole block of text without providing any sourcing, as the book contained no bibliography or footnotes.
The titled document, "Clearer Than Truth: Determining and Preserving Grand Strategy: The Evolution of American Policy Toward the People's Republic of China Under Truman and Nixon," was submitted in 2000 and can be found on either microfiche at University of Michigan or the academic database ProQuest.
Politico noted that she would generally not quote lifted passages while barely changing the wording and regularly avoided using footnotes. It also noted she violated the university's definition of plagiarism.
Parts of Crowley's dissertation appear to violate Columbia's definition of "Unintentional Plagiarism" for "failure to 'quote' or block quote author's exact words, even if documented" or "failure to paraphrase in your own words, even if documented." In other cases, her writing appears to violate types I and II of Columbia's definition of "Intentional Plagiarism," which are, respectively, "direct copy and paste" and "small modification by word switch," "without quotation or reference to the source."

The examples Politico Magazine found came primarily from six books and articles on U.S. foreign policy, particularly from Yale historian John Lewis Gaddis' 1982 book Strategies of Containment: A Critical Appraisal of American National Security Policy during the Cold War and Princeton World Politics professor Thomas Christensen's 1996 book Useful Adversaries: Grand Strategy, Domestic Mobilization, and Sino-American Conflict, 1947-1958. Both Gaddis and Christensen declined to comment
In response to the KFILE discovery of plagiarism, the Trump transition team claimed it was a "politically motivated attack" and indicated it would stand by her.
[image via screengrab]
–
Follow Justin Baragona on Twitter: @justinbaragona
Have a tip we should know? tips@mediaite.com