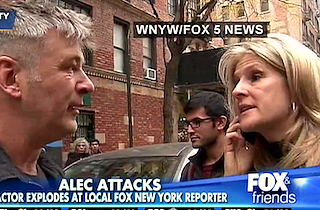 Linda Schmidt, a reporter for Fox 5 News who was involved in an altercation with Alec Baldwin on Friday, spoke about the incident to Fox & Friends on Monday morning, calling it "unsettling" and denouncing Baldwin for his choleric behavior.
When Schmidt had previously tried to interview Baldwin's wife Hilaria Thomas about the verdict in Baldwin's stalker trial, she stuck a microphone close to Thomas' mouth; according to Schmidt, Thomas later reported to Baldwin that the reporter had nearly knocked her teeth out, which was what Baldwin wanted to discuss when Thomas spotted Schmidt outside his apartment on Friday.
Thomas "sics him on me like a pit bull," according to Schmidt. "He proceeds to come over to me, not talking to me like a civil human being, but to start screaming and yelling at me like he did. And then tried to have charges filed against me. Obviously, he had no basis."
RELATED: NY Post Reporter Challenges Alec Baldwin to Fight: 'Why Don't We Settle This Like Men'
"I did not expect that at all," Schmidt continued. "Even as he was approaching me, I thought, okay, I'm a woman, maybe he's going to treat me a little differently here. I don't know if you can tell, but I'm on the phone talking to one of my bosses about what's going on. Then all of a sudden, I see him coming over to me. So I continued to stay on the phone so my boss could hear the exchange that was going on. It was unsettling."
The Fox & Friends hosts asked if Schmidt thought an apology might be forthcoming.
"Not in a million years would I ever get an apology from them," Schmidt said. "I respect him for defending his wife and for believing what she said. That's what a spouse should do. In this case, though, she got it wrong and he got it wrong, in a big way."
"And he should have never, ever talked to a person, let alone a woman, in that manner," guest-host Eric Bolling said. "Don't cut him any slack on that."
Watch the clip below, via Fox News:
[Image via screengrab]
——
>> Follow Evan McMurry (@evanmcmurry) on Twitter
Have a tip we should know? tips@mediaite.com