Reporter Claims Rahm Emanual Assaulted And Threatened Him During 'Abusive' Exchange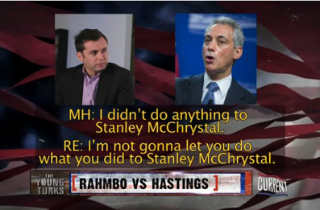 In an interview with Current TV's The Young Turks last night, BuzzFeed reporter Michael Hastings revealed that during a tense exchange with Chicago Mayor and former Obama Chief-of-Staff Rahm Emanuel, the politician grabbed his arm as a threat of violence and intimidation.
Hastings recalled that the incident happened two days after President Obama's re-election, after the reporter asked Emanuel a question about the millions of dollars he raised for the Priorities USA superPAC in the final days before election. According to Hastings, the mayor grabbed his arm and wouldn't let go, as bodyguards approached from all sides.
The confrontation appears to have stemmed from the fact that Hastings was recording the mayor's speech and asking him on-the-record questions afterwards.
In the audio played by The Young Turks, Emanuel can clearly be heard asking, "What did you just say to me?" in an angry tone. "I'm not going to let you do to me what you did to Stanley McChrystal," the mayor said after Hastings laughed and said "we'll see" in regards to whether President Obama's re-election was "worth it."
Emanuel was referring to Hastings' famous 2010 Rolling Stone profile on McChrystal, which led to the general's resignation after it was revealed that he had serious disagreements with President Obama.
After the encounter with Emanuel, Hastings claimed a member of the mayor's staff demanded he delete the audio recording. But obviously, Hastings did not.
Calling the entire interaction "abusive," Hastings told TYT host Cenk Uygur, "I don't mind being yelled at, like verbally abusive, fine. But I think the mayor clearly crossed the line by grabbing me. I've interviewed terrorist leaders. I've interviewed dictators. I've interviewed a lot of politicians. I've interviewed a lot of angry people, but none of them have ever laid a hand on me."
Hastings concluded by lamenting that Emanuel is "notorious for this kind of abusive and bullying behavior, and he gets away with it again and again and again."
Watch below, via Current TV:
[h/t BuzzFeed]
— —
>> Follow Andrew Kirell (@AndrewKirell) on Twitter
Have a tip we should know? tips@mediaite.com