Reporter Confronts Pres. Obama About First Family 'Jetting Around' On Vacations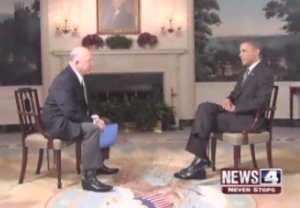 KMOV reporter Larry Conners confronted President Obama about the First Family's "jetting around" on vacations while the country is in bad shape, with many struggling to make ends meet. For his part, Conners pressed the question repeatedly — eliciting noncommittal responses from the president in the tense exchange.
Vacation was one of an array of topics covered, and Connors was one of several reporters invited for a sit-down interview with Obama. Connors asked:
"The economy is a big issue and concern for folks. I mean, the unemployment, trying to make ends meet, gas prices, food prices going up. Some of our viewers are complaining, they get frustrated, even angered, when they see the first family jetting around, different vacations and so forth, sometimes maybe they think under color of state business and that you're out of touch, that you don't really know what they're experiencing right now."
"Well, I don't know how many viewers you're talking about that say that," Obama replied testily. Connors pressed, "We do hear from some." Obama replied, "I hear from all kinds of viewers about everything," before adding:
"But the fact of the matter is, I think if you look at my track record, I'm raising a family here. When we travel, we got to travel through Secret Service, and Air Force One, that's not my choice. I think most folks understand how hard I work and how hard this administration is working on behalf of the American people."
"Well, of course, with all due respect, the president sidestepped that question," Connors said in the KMOV report of his interview. "No one is questioning his need to travel in Air Force One or have security. The questions being raised are the First Family taking so many vacations, when and where, at taxpayer expense."
The format of the interview was short, he said, so there wasn't much room for more follow-up questions.
Take a look at the exchange, via KMOV-TV:
(H/T The Blaze)
Have a tip we should know? tips@mediaite.com