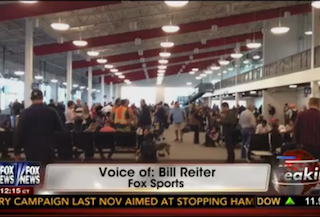 Fox Sports columnist Bill Reiter just happened to be in the LAX terminal where a violent shooting incident occurred Friday morning and quickly started tweeting information and photos from inside the airport. Reiter joined Fox News' Shepard Smith by phone to describe what he heard and saw.
"I was sitting there like a lot of people for an early morning flight that had been delayed and little tired," Reiter said. "And first there was screaming and people running toward me. I was at the very end of the terminal and followed by what was clearly gunshots, it is hard to know how many. People were crying and diving under the benches."
He then called his wife to tell her what was happening as well as that he loved her and their kids. The passengers inside the terminal then pushed open an emergency exit door and went out onto the active tarmac. Overall, Reiter described a "chaotic" scene, in which it is very difficult to know exactly what happened.
After dropping Reiter's call, Smith summed up the information his Fox team believes they know so far. "There is a scene of chaos in a major international airport, shut down because of a gunman who got in and started firing up the place, that we know," he said. "We know at least one person was injured. We know the gunman has been shot in the leg, according to information specialist here on our news deck. And we know that gunman is in custody."
Watch video below, via Fox News:
[photo via screengrab]
— —
>> Follow Matt Wilstein (@TheMattWilstein) on Twitter
Have a tip we should know? tips@mediaite.com