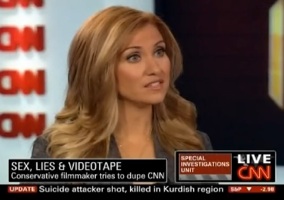 Most of the early reporting on the so-called "sting" of NPR executives by operatives of James O'Keefe's "Project Veritas" identify O'Keefe as the person behind the ACORN videos, describing him as a "conservative activist," "master of the video sting," even a scare-quoted "investigative journalist," and while some reports included references to O'Keefe's arrest for an incident at Sen. Mary Landrieu's office, all but one omitted any mention of O'Keefe's plot to strand a female reporter on a boat loaded with sex toys and hidden cameras.

While the coverage has understandably focused on the contents of the tape, which NPR has denounced, O'Keefe's background is obviously relevant enough to merit partial inclusion in these news accounts, yet almost all have omitted O'Keefe's most recent, and most disgraceful, high-profile "sting."
Then-CNN correspondent Abbie Boudreau (now with ABC News) reported, last September, that, based on documents and eyewitness accounts, James O'Keefe had planned to lure her onto a boat filled with sex toys and hidden cameras. The plan called for the boat to set sail with O'Keefe and Boudreau aboard, so that the reporter would be unable to escape, at which point O'Keefe would try to "seduce" her. The plan called for the "prank" to end with Boudreau in tears, begging to be let off of the boat.
The plot was foiled when conscience-stricken O'Keefe associate Izzy Santa warned Boudreau, minutes before the "caper" was to take place. Even conservatives were quick to denounce O'Keefe, whose antics were already wearing thin with them.
O'Keefe later said that he had rejected some elements of the plan, but Boudreau stood by her reporting, and O'Keefe offered no evidence to support his claim.
But anyone reading, or watching, reports of O'Keefe's latest adventure would have no idea that he had been involved in such a plot. As a matter of fact, even when the story of Boudreau's planned humiliation broke, CNN's cable news competitors didn't cover it, save a scant mention on MSNBC's Hardball.
While it's easy to understand why conservative websites like The Daily Caller to omit this information, its relevance is demonstrated by the one reporter who chose to include it, TPMDC's Benjy Sarlin:
Last year, O'Keefe's credibility took another major hit when he reportedly tried to invite a CNN reporter onto his boat to try and seduce her as a prank, an effort that was revealed when one of his own colleagues blew the whistle to the press.
O'Keefe's lack of credibility doesn't change the content of the tape, but it is relevant to the story, especially when you consider that the essence of this story is an attack on NPR's credibility. For respected news organizations to gloss over such a serious incident is unconscionable.
Have a tip we should know? tips@mediaite.com