Reps. Ellison And King Clash Over Whether Police Should Step Up Surveillance Of Muslim Community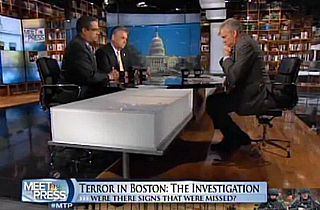 Appearing on NBC's Meet the Press Sunday morning, Reps. Peter King (R-NY) and Keith Ellison (D-MN) clashed over the former's calls for police departments to step up their activities in surveilling local Muslim communities, given the alleged Islamic beliefs behind the Boston bombings earlier this month.
Rep. King, an outspoken advocate for the domestic "profiling" of Muslims in the ongoing War on Terror, told moderator David Gregory that despite "most Muslims being outstanding people," it is "critical" for police units to ramp up surveillance of Muslim communities because radicalism can sometimes emerge from within. "We can't be bound by political correctness," he previously warned on the issue.
Ellison, a Muslim Democrat, countered that he is concerned about public safety just as much as his colleague, but that it would be "ineffective law enforcement to go after a particular community." Instead, he proposed, it would be judicious to go after dangerous behavior.
"Once you start saying we're going to dragnet or surveil a community, you ignore dangerous threats that are not in that community and you go after people who don't have anything to do with it," Rep. Ellison said. He then cautioned that "we went after a community in World War II," citing the internment of Japanese Americans, which now reflects a "national stain" on our history.
"No one is talking about internment," King shot back. He then told Gregory that he believes law enforcement officials are too afraid to be called "anti-Muslim" or "anti-Islam" if they happen to "accept the reality that the element is coming from within the Muslim community."
Watch the exchange below, via NBC:
— —
>> Follow Andrew Kirell (@AndrewKirell) on Twitter
Have a tip we should know? tips@mediaite.com