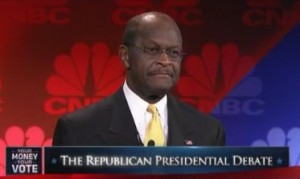 After twenty or so minutes of calm debate on the economy, Wednesday night's CNBC Republican Presidential Debate turned ugly, as moderators Maria Bartiromo and John Harwood asked embattled frontrunner Herman Cain about the sexual harassment allegations being leveled at him, then followed by asking Mitt Romney if he would have retained Cain as a CEO in one of his businesses. The debate crowd booed both questions loudly. Both candidates handled the rather clumsily-constructed questions well, and the crowd gave a raucous cheer when Harwood said, "Now, back to the economy…"
Bartiromo summarized Cain's troubles, saying, "In recent days, we have learned four different women accused you of inappropriate behavior," then framed the election as a business decision.
"You know the shareholders are reluctant to hire a CEO where there are character issues," she said, then asked, "Why should the American people hire a president if they feel there are character issues?"
Loud, low-pitched boos grew among the crowd, as Cain replied, "The American people deserve better than someone being tried in the court of public opinion based on unfounded accusations. that's what — I value my character and my integrity more than anything else and for every one person that comes forward with a false accusation, there are probably — are thousands who would say none of that sort of activity ever came from Herman Cain."
Cain cited his uptick in fundraising since the scandal broke, saying,  "Over the last nine days, the voters have voted with their dollars and they are saying they don't care about the character assassination. They care about leadership and get thing economy growing and all of the other problems we face."
Cain's response got huge applause from the crowd. Then, John Harwood followed up with a weird hypothetical to Mitt Romney, to even louder boos from the crowd. "Governor Romney," he said, "when you were with Bain Capital, you purchased a lot of companies. You could fire the ceo and management team or you could keep them. Would you keep a CEO — are you persuaded by what Mr. Cain said? Would you keep him on if you bought his company?"
Romney handled the question deftly, responding, "Look, Herman Cain is the person to respond to these questions. He just did. The people in this room and across the country can make their own assessment."
Cain has left himself open to legitimate criticism over his handling of the allegations, but neither of the questions asked tonight were particularly fair, to him or to Romney. It's fair to criticize Cain, but it's not fair to ask him to presume his iwn guilt, or to ask Romney to. This is probably the one time I agree with a Republican debate audience this year.
Here's the clip, from CNBC:
Have a tip we should know? tips@mediaite.com