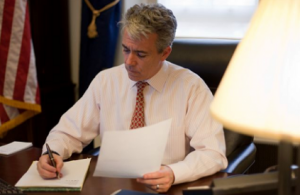 Freshman Republican congressman and "Tea Party stalwart" Joe Walsh called in to Laura Ingraham's radio show to discuss the GOP's role in spending negotiations.
Walsh, whose frustration was strikingly evident throughout the interview, pointed a finger at Republicans – specifically, a sense of fear among GOP lawmakers – for not being as tough or bold as they could be throughout budget negotiations:
There is a fear, there is a fear on our side, among leadership that 'Oh my God, we can't have a shut down.' I understand saying we don't want one, I understand saying Harry Reid and the Dems, that's the only play they've got is a shutdown, but we have got to be willing to have a showdown and we have got to be willing to go to midnight Friday night and be bold and I wish our leadership would.
What's more, Walsh is not afraid to call out those he feels particularly responsible, telling Ingraham that he feels Speaker John Boehner is "scared to death" of a possible government shutdown. He continues:
Walsh: The Republican leadership right now is so afraid of a shutdown.

Ingraham: You're not afraid of naming names, you're saying people are afraid, but you seem afraid to name names.

Walsh: John Boehner, Eric Cantor, Kevin McCarthy, go right down the leadership list, and Laura I understand it, look, these guys have been here a while.
Walsh reserves some of his ire for President Barack Obama, specifically his decision to travel in the midst of these discussions:
This is so damn important to [Obama] and [he's] out of town again? The budget negotiations are so important to you that you appointed Joe Biden a month and a half ago and then he leaves the country the next day? The president is clueless. I want some Republican to stand up and say–like me–I don't know President Obama, I've met him once, he's tall, I'm sure he's a nice man, I'm sure he's a smart man, but every single one of his policies is destroying what makes this country great, we're better than this.
Listen to the full segment, courtesy of The Laura Ingraham Show:
Have a tip we should know? tips@mediaite.com