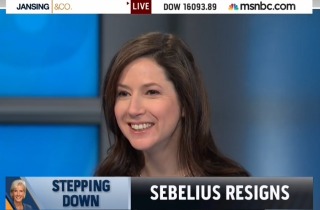 Health and Human Services Sec. Kathleen Sebelius' resignation came as a shock on Thursday. Her role as the face of the Affordable Care Act and it's implementation, and her insistence (just last week) that she would not resign before a critical election cycle in which the ACA is likely to be the defining issue, led political analysts to accept the conventional wisdom that Sebelius wasn't going anywhere.
But, according to MSNBC's analysts, that conventional wisdom was misplaced from the start. When asked about the timing of Sebelius' resignation on Friday and if it could hand Republicans a series of opportunities ahead of what looks to be a difficult political cycle for Democrats, MSNBC.com Managing Editor Dafna Linzer declared that the Americans were nowhere near the airport.
"It is ideal timing," Linzer insisted. "She did get to say that there were 7.5 million people who enrolled."
"She was one of the people who set that figure of 7 million as the necessary number to make sure that the pool will would work," Linzer continued, though she failed to note that Sebelius and other administration figures denied they ever set anything when it looked as though that enrollment figure was unattainable.
Because it is so rare, it's worth pointing out moments like these when conservative Republicans and the administration's stalwart defenders at MSNBC are in perfect agreement. The GOP wholeheartedly concur that the timing of Sebelius' resignation is positively "ideal."
"[I]t appears that this resignation presents Republicans with a golden opportunity to reignite their crusade against Obamacare with [Office of Management and Budget Director] Sylvia Burwell's nomination as a proxy for all the problems with the law," observed The Federalist's Ben Domenech.
He notes that Burwell's confirmation hearings will provide Republicans with numerous opportunities to get an anti-ACA message out, further animating an already enthusiastic GOP electorate. What's more, a post-"Nuclear Option" Senate means that Burwelll is likely to be confirmed only by Democratic votes, which will tie vulnerable Senators to both the ACA and the reformed filibuster rules just months before the midterm elections.
A more thoughtful voice on MSNBC, Rachel Maddow, is deeply concerned about the optics of Sebelius' resignation. "Kathleen Sebelius has to go? Why now?" she asked. "Because the administration can't resist stepping on its own tail and turning the first good news cycle they have had about Obamacare since it passed into a story instead about firing people for Obamacare's failures?"
The ACA's supporters would have loved nothing more than to spend as long as they could talking up the heath care reform law's enrollment figures, however dubious they may be. That's over now. The conversation will now shift to who will manage the ACA's implementation, which will necessarily center on retrospective and critical examinations of the first four years implementation. The Democrats want to look forward. Sebelius' resignation forces them to look into the past.
Is that fair? Maybe not. Cabinet officials regularly cycle in and out of their positions, and the Obama administration has retained key figures for far longer than many former administrations. But it is the reality that Sebelius' departure is a political problem for the Democrats no matter how wishful the thinking is over at 30 Rock.
Watch the clip below, via MSNBC:
[Photo via screen grab ]
 — — 
> >Follow Noah Rothman (@NoahCRothman) on Twitter
Have a tip we should know? tips@mediaite.com