Resigned GOP Chair Unapologetic Over Racist Remarks, Calls Republican Party 'Gutless'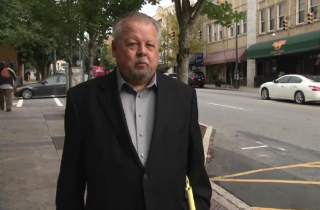 In a Friday interview with WWNC's The Pete Kaliner Show, disgraced North Carolina GOP precinct chair Don Yelton expressed no remorse over his racially-charged remarks on The Daily Show that led to his resignation.
Yelton drew the ire of his own colleagues after referring to "a bunch of lazy blacks" during an interview with Daily Show correspondent Aasif Mandvi. He tendered his resignation as a result of the controversy and the state GOP publicly distanced itself from his remarks.
But is Yelton apologetic?
"No, I don't take back anything I said," he told Kaliner on Friday morning. "Would I do it again? Yes, I would."
Yelton claimed the show "created an illusion that I was just personally had an agenda against the blacks, tried to make it talking about racism rather than the real issue of illegal voting." He countered that narrative by claiming "I've hired blacks before" and that his "best friend is black."
Unconvinced, Kaliner noted that "I don't think anything that the show did through their editing made you look any worse than you made yourself look in that interview."
"Well that's your opinion," Yelton dismissed.
"Was it worth it?" Kaliner repeatedly pressed.
"Yeah," Yelton eventually conceded. "I found the truth. The truth is, [the GOP's] got no guts."
Listen to the full interview below. It may seem long (40+ mins.), but you can hop in at any given moment and find a gem of a quote:
[h/t
TPM
]
[
image via AP
]
— —
>> Follow Andrew Kirell (@AndrewKirell) on Twitter
Have a tip we should know? tips@mediaite.com