Restoring Honor: Defending Bill Press' Critique Of Glenn Beck's Lincoln Memorial Rally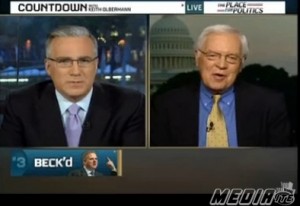 On last night's Countdown, syndicated radio host and Toxic Talk author Bill Press took aim at Glenn Beck's  August 28 "Restoring Honor" rally, which he has previously likened to an Al-Qaeda rally at Ground Zero. Among the topics discussed were Beck's fundraising tactics, the "desecration" of Dr. Martin Luther King's memory, and, most importantly, Beck's lack of a permit for the event. Bill takes special care to note that the National Park Service is still mulling the request over. He also refuses to take Keith Olbermann's bait that "Restoring Honor" is to be a racist event, putting it in the proper perspective.




That's not to say that race plays no part in this. As Bill recounts in Toxic Talk (you can purchase an autographed copy here), Beck famously accused the first black president of being a "racist" who has "exposed himself as a guy, over and over again, who has a deep-seated hatred for white people, or the white culture."
It was a ridiculous charge, one that prompted an advertiser boycott led by the organization Color of Change, whose founder, Van Jones, would become the target of a campaign by Beck that ended in Jones' resignation. He also famously asked Rep. Keith Ellison (D-MN) to prove he wasn't working with terrorists.
But as Press notes, Beck's toxicity is much more scattershot than the occasional race-baiting. Whether he's calling Hillary Clinton a "stereotypical bitch," fantasizing about killing Nancy Pelosi and Michael Moore, or hating the families of 9/11 victims, I think Press' point is that, while it would take balls the size of Jupiter to usurp the memory of King's "I have a dream…" speech, Beck is particularly ill-suited.
As Frances Martel noted earlier, Press was criticized by Mediaite for comparing Beck's rally to an Al-Qaeda rally at Ground Zero, and I agree. I would compare it more to a Keystone Kops reenactment of the raising of the flag at Iwo Jima, the pretense of bumblers to greatness.
As for Press' observation that the National Park Service is still reviewing Beck's permit request, I wonder if Bill isn't up to a little mischief here, hoping that Countdown viewers will weigh in with the agency.
Have a tip we should know? tips@mediaite.com